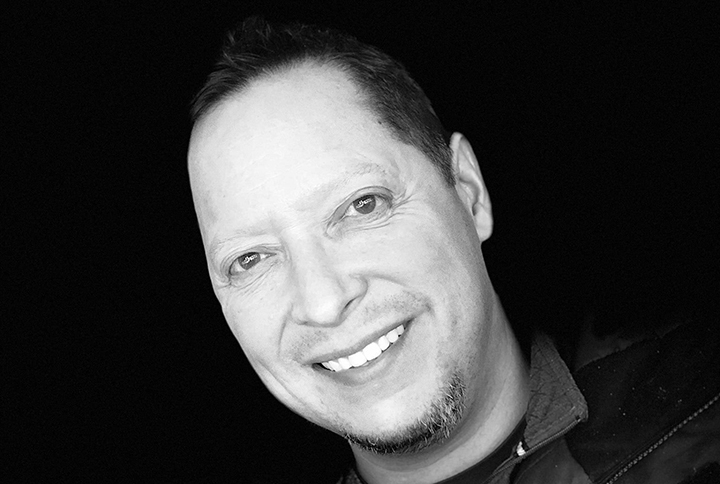 Today, John R. Sylliboy is living his best life. He's in a loving relationship with his partner, Darrin, has moulded a career he's passionate about, and this May, he'll graduate from Mount Saint Vincent University with a Master of Education in Educational Foundations.
John has had many exciting and extraordinary experiences, living for many years in Latin America, and has built a name for himself in his home province as an Indigenous activist, educator and community developer. But like most people, his journey has not been without its challenges.
Early life
John grew up in the 1980s in both Eskasoni First Nation on Cape Breton Island, NS and Millbrook First Nation in Truro, NS. The oldest of 14 children in all, his family was close-knit, loving and supportive. While no one questioned John about his sexuality, he always felt that there was something "different" about him. At the time, the concept of being gay was completely foreign. "There weren't even words in our Mi'kmaq language to describe the various sexual and gender identities," he explains. John does, however, remember the many English labels commonly used to describe members of the LGTBQ+ community. "Of course, they were all very negative in connotation."
The confusion about his sexuality, along with racial tensions in the rural communities in which he grew up, led to confusing social and cultural settings.
Move to Quebec
In 1987, when John was 17 years old, he headed for Quebec to live with his aunt and uncle for his last year of high school. He had been losing focus on his studies, and both he and his family felt he needed a change of surroundings. He worked hard to make good grades and was accepted into a college in Quebec in 1990. While there, he was accepted to participate in the Canada World Youth program in Costa Rica in 1990-91. The international volunteer program allows youth to build leadership skills by participating in community-driven development projects. This would turn out to be a life-changing move.
A realization in Costa Rica
John instantly fell in love with Costa Rica. The culture, the natural beauty and the friendly people drew him in. He still considers it his second home. It was in Costa Rica, at the age of 21, that John came to terms with his sexuality and, as he puts it, came out to himself. After working at various jobs, he applied and was accepted to the Universidad Nacional de Costa Rica, where he would study International Relations. In 2000, two years after graduating, John moved back to North America for a year-long contract position with the Close Up Foundation in Washington, D.C providing civic education to high school students. He then returned to Costa Rica before accepting what he describes as his dream job with a language development organization in Central America. After being stationed in San Hose for five years, John was promoted to an international portfolio that required him to move to Bogota, Colombia.
First encounter with homophobia
John's excitement about the promotion soon faded when less than a year into the role, he faced his first encounter with homophobia. Upon learning that John was gay, one of his upper administrative colleagues began treating him unfairly. This had a profound impact on John and led him to make the difficult decision to return to Nova Scotia. He had been away from home for two decades and was nervous about how he would be accepted after so much time away, and how he would explain his sexuality to his family and community.
Homecoming
It took some time for John to readjust to life in Millbrook. He had gone from living in a large city with a population of eight million people to a community with a population of roughly 700 at the time (2007). "It was almost reverse cultural shock," he explained. "I had to re-learn everything about my culture and language."
John quickly found work with the Atlantic Policy Congress of First Nations Chiefs Secretariat in Halifax. He chose to remain living with his mother in Millbrook for a year to improve his Mi'kmaq language skills and to be reacquainted with his siblings, nephews and nieces, and his community. He also wanted to learn more about his culture and explore ancestral teachings about Two-Spirits, an English term used to reference Indigenous people in the LGBTQ+ community, and also used by some Indigenous people to describe their gender, sexual and spiritual identity.
Once he was settled with work, John knew it was time to come out to his family and community. "I needed to get out of that ridiculous closet," said John. "When I was 17, it was a safe place to be. When I was 37, it was just wasted space."
He first told his mother, who was positive and supportive – so much so, she proceeded to immediately spread the news to the entire family and community. To John's relief, though he wasn't surprised, they were all accepting of his sexuality.
Path to the Mount
A desire to learn more about Two-Spirits drew John to the Mount in 2010. He already had a connection with the University because his younger sister had previously attended and enjoyed her experience. He also came across an advertisement in the Library for the "Lesbian Pulp Fiction" collection, which made him feel like he belonged. He decided to pursue a Master of Education in Educational Foundations because it suited his desire to help improve the lives and futures of Indigenous youth, particularly those who are Two-Spirited.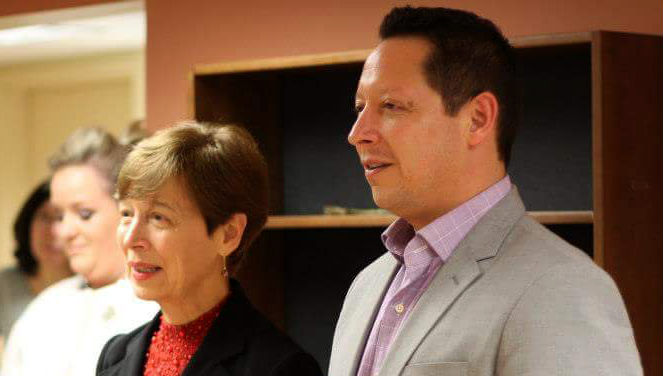 Pictured (left-right): Former Mount President Dr. Ramona Lumpkin and John at the opening of the Mount's Aboriginal Student Centre in February 2013.
As a student, John felt compelled to help the Mount better serve Indigenous students and was soon hired as the director of community engagement to look at how the Mount could address educational supports for Indigenous students on campus. Working closely with the University President at the time, Dr. Ramona Lumpkin, John was instrumental in creating the external Aboriginal Advisory Committee and developing the case for the Aboriginal Student Centre, which opened in 2013.
"When I first arrived, there were very few services and supports specifically for Indigenous students," said John. "But I saw a willingness and openness on behalf of the Mount to listen and take action." While he notes that there's always room to improve, he believes the Mount has made significant strides in improving the experience of Indigenous students, which has in turn led to an increase in Indigenous students attending the University.
John wasn't in a rush to finish his Master's. As a mature student, he had a full-time job and family commitments, which included supporting siblings diagnosed with Huntington disease. He was also very active in his community, volunteering his time with Two-Spirit and LGBTQ+ organizations. He co-founded the Wabanaki Two Spirit Alliance (W2SA) with his friend and mentor Tuma Young. John credits the flexibility of the University and the support of his professors with his success.
Making history
This past December, John successfully defended his thesis, titled Two-Spirits: Conceptualization in a L'nuwey Worldview, which focuses on understanding how gender identity and sexuality can be contextualized through oral tradition. A first for the Mount, John defended his thesis in both Mi'Kmaq and English in front of a group of 25 elders at Membertou First Nation in Cape Breton. What was already a great honour for John was magnified by a kind gesture from a woman from Eskasoni First Nation. "She stayed up all night crafting a rainbow coloured sash for me to wear as I presented," John explained. "I was so humbled by that gesture."
John certainly had an engaged audience for his thesis defence. "What was supposed to be a 30-35 minute presentation followed by a 10 minute Q&A turned into a three-hour event due to the engagement from those in attendance," John explained. "The entire experience was absolutely the highlight of my academic career at the Mount. It was such an honour."

Pictured: John (far right) with the group of elders at Membertou First Nation in Cape Breton following John's thesis defence in December 2017.
His thesis begins with a candid personal narrative outlining his journey to accepting his identity as a gay and Two-Spirited Indigenous man, and the challenges he's faced along the way. As he states in his thesis, Mi'kmaq knowledge is traditionally transferred via storytelling, which is why he felt compelled to share his own story. Read his thesis in full»
What's next
John currently calls Halifax home, and works as the National Aboriginal Community and Research Coordinator with the IWK Health Centre, leading the expansion of Indigenous pain research across Canada. He also established his own consulting business in 2013, focusing on Indigenous education policy, youth leadership and career/education orientation, research and community development projects. He is currently working with Dalhousie University to develop Indigenous health curriculum for first-year students in medicine, dentistry and nursing.
In the fall, John will be heading to McGill University in Montreal to pursue his PhD in Integrated Studies in Education where he will be continuing his research into Two-Spirits and how to best support Two-Spirited youth.
"My graduate thesis laid the foundation," said John. "My goal with my PhD studies is to better understand what it is to be Two-Spirited, and what health and education supports Two-Spirited youth need."