Camp grew from a relationship between Sipekne'katik First Nation, Pictou Landing First Nation, and faculty at MSVU
A ceremony held at the Wikuom on the Mount Saint Vincent University campus on Monday, July 8, 2019 marked the start of the 2019 NSERC PromoScience Two-Eyed Seeing Day Camp. This is the second annual camp; the
first camp
took place this time last year (July of 2018). The campers are youth who just completed grades 7 to 9, from Sipekne'katik and Pictou Landing First Nations.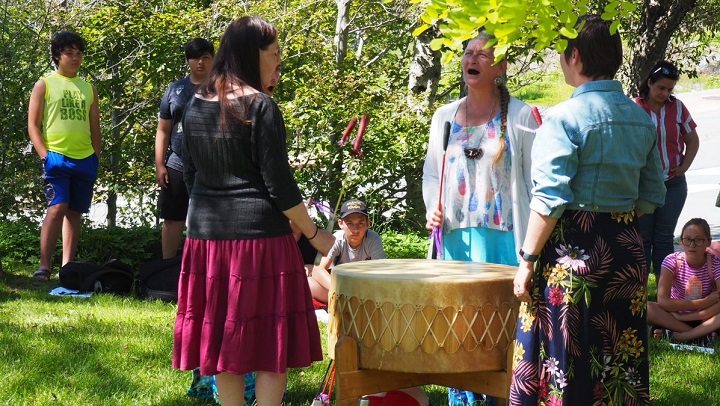 Pictured above: All Nations Drum Group
Guided by the principle of Two-Eyed Seeing (Etuaptmumk) and the knowledge and experience of a diversity of knowledge keepers and elders, the camp includes activities developed using teachings from Western and Indigenous Science. A team of Mount students worked closely with Dr. Shannan Grant (originally from Unama'ki/Cape Breton, Department of Applied Human Nutrition, MSVU), Ann Sylliboy (of Eskasoni, Unama'ki, Post Secondary Consultant, Mi'kmaw Kina'matnewey), Velvet Paul (Director of Education, Sipekne'katik), Sheila Francis (Director of Education, Pictou Landing) and countless others to develop the camp curriculum.
Chelsey Purdy was one of those students. A fourth-year Applied Human Nutrition undergraduate student and Dietetic Intern, Chelsey is a camp counselor and completed her honours thesis on camp quality assurance. The opportunity to work on this initiative has been a learning experience for her, too. "This has given me a chance to build relationships with and learn from our community partners," she noted. "As a member of Acadia First Nation, this camp has helped me expand my community; I now have strong relationships all over Miꞌkmaꞌki."


Pictured above: MSVU student members of the camp content development team, from left to right, Shannon Ledger (Faculty of Education), Kwaku Agyare (Department of Biology), Dr. Shannan Grant (Faculty member, Department of Applied Human Nutrition), Jaclyn MacNeil (Department of Applied Human Nutrition), Florence Blackett (Millbrook First Nation, Departments of Applied Human Nutrition and Sociology & Anthropology), Chelsey Purdy (Acadia First Nation, Department of Applied Human Nutrition)
Two-Eyed Seeing teaches us to see through one eye with the strengths of Indigenous Knowledge and through the other with the strengths of Western Science. It's an internationally recognized and celebrated approach founded by Albert Marshall, (the late) Murdena Marshall and Cheryl Barlett, in Unama'ki. During camp activities, campers are given opportunities to see through both eyes, by engaging in hands-on activities and discussion.
"Working in collaboration with MSVU and Pictou Landing First Nation on the development and implementation of the Two-Eyed Seeing Camp has been an excellent and educational experience, not just for myself but for all participants," said Velvet Paul, Director of Education, Sipekne'katik First Nation and a graduate of the Master's of Education in Curriculum Development program at MSVU. "Fostering relationships with sister Mi'kmaq communities and MSVU provides opportunity for students to have pride in their cultural identity while participating and viewing science from a holistic perspective. I am very proud to be a member of this team."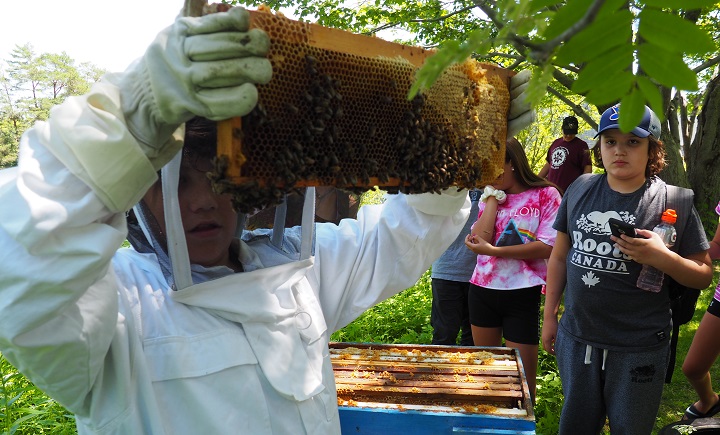 Pictured above: Joel Francis, returning camper and 2019 community-based mentor from Sipekne'katik, shows his peers the male bees in the hive
A graduate from the MSVU Faculty of Education, Velvet was enthusiastic to co-mentor Mount students involved in program planning, and welcome (this year) the second student from the Faculty of Education, Shannon Ledger. Shannon co-developed a new Geology/map lesson with Gerald Gload (Mi'kmawey Debert Cultural Centre) for the camp. She holds a Master's in Geology from Saint Mary's University. When asked about her experience developing and implementing her lesson, Shannon said, "As a pre-service teacher, this has been an amazing experience. I feel as though I am better prepared to develop and offer more culturally diverse curriculum in the classroom."
On the first day of camp, the youth participated in Scientist Training at the Mount. They learned about the University's various science programs and interacted with Indigenous and non-Indigenous mentors. Sessions included (to highlight just a few):
All about Amu (the bee) – campers heard the story of how the bee received its stinger and learned why the Mi'kmaq word for bee is "amu." They also discussed types of bees, bee anatomy, bee sight, bee habitats, role in the ecosystem and bee keeping. They also were given the opportunity to build a type of bee home and interact with The Mount beehive.
Botany Lab – campers explored the teachings plants have to offer with a focus on plants of cultural significance to Mi'kmaq people.
Mijipjewey na Pisun, Food is Medicine – campers learned how a trout is filleted in the traditional Mi'kmaq way and discussed traditional ways of waste reduction. They also identified foods that contain starch, while examining traditional sources of carbohydrate.
Dreamcatcher Calculator – campers created various types of dreamcatchers (image below) while learning about prime numbers.
MSVU Community Garden: An Outdoor Laboratory – campers learned about the nutrient cycle and composting, while learning Mi'kmaq language related to gardening (provided by Tuma Young, more below).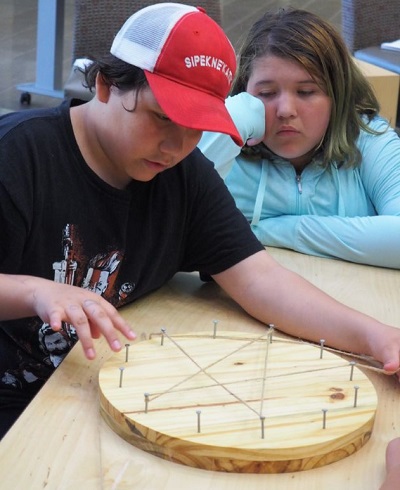 ---
Pictured at left: Joel Francis, returning camper and 2019 community-based mentor from Sipekne'katik, reviewing how to use the dream catcher to understand prime numbers with one of his peers
---
Days two and three take place in Sipekne'katik and Pictou Landing respectively. The campers will reunite at Sipekne'katik for the fourth and final day of camp (July 11) which features a science fair and medicine walk (led by Tuma Young, knowledge keeper and Assistant Professor, L'nu & Political & Social Studies, School of Arts and Social Sciences, Cape Breton University).
"The work that Dr. Grant and the Two-Eyed Seeing Camp community have done is a great example of reconciliation as it is building relations between academia and First Nations," said Patrick Small Legs-Nagge, Special Advisor to the Mount President on Aboriginal Affairs. "It brings together teachings from an Indigenous worldview and Western science, and demonstrates how a blend of the two can be learned. This camp is a great example of learning together to share different world views and ways of knowing."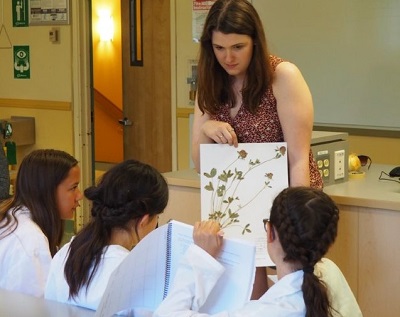 ---
Pictured at left: MSVU student Chelsey Purdy (Acadia First Nation, Department of Applied Human Nutrition) reviewing teachings given to her by Tuma and her grandfather
---
Of special note: two elders (Gary Joseph and Eileen Brooks of Sipekne'katik) visited MSVU to open the camp with a four directions ceremony. This ceremony recognized the elements, the world's diverse people, and the ground upon which MSVU stands. The ceremony was of great significance to many, including camp counselors and volunteers. One of the camp's counselors, international student Kwaku Agyare, born in Ghana and raised in New Brunswick, said, "The camp has been an outstanding opportunity for me to share what I have learned during my degree. For the past two years, I have been privileged to work with a close-knit team, made up of budding scientists and Miꞌkmaq MSVU students. Supervised by Dr. Shannan Grant and her Miꞌkmaq mentors and colleagues, we not only had both eyes open, but continuous support and flexibility for self-development and improvement."
The camp is made possible through a grant from the Natural Sciences and Engineering Research Council of Canada's (NSERC) PromoScience Program, obtained by three Mount faculty (
Dr. Shannan Grant
,
Dr. Tamara Franz-Odendaal
and
Dr. Danielle Cox
) and one former Mount staff member, Art Stevens (now with the Faculty of Agriculture, Dalhousie University).
For more information, please call 902-475-6101 or email
two-eyed-seeing-camp@msvu.ca
.
Photos by Phillip Joy, School of Health and Human Performance, Dalhousie University