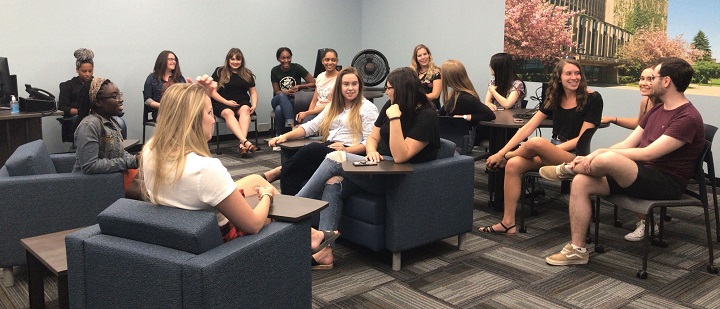 A new academic year is ushering in a fresh take on supporting student success at Mount Saint Vincent University.

The Centre for Academic Advising and Student Success is newly open on the third level of the Seton Academic Centre. The space is a welcoming hub in which students from across disciplines can connect with academic services and supports.

The centre hosted its official opening on September 19, welcoming students, staff and faculty for an afternoon of celebration and exploration of how best the Centre can support students. At the event, Vice President Academic and Provost Dr. Elizabeth Church noted that the creation of the centre has been a goal for some time, and became a reality thanks to an opportunity to remodel the space during renovations to the building this year.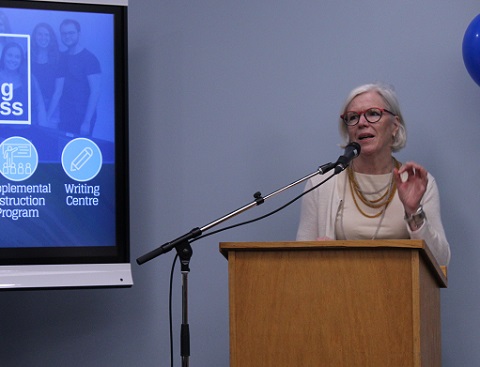 ---
"Today is the day we celebrate this dream come true."
– Dr. Elizabeth Church, Vice-President Academic and Provost

---
Centre manager Erin Tomlinson says the facility has been full of students in its first month of operation. Since classes started on September 5, more than two hundred students have visited to access academic supports.

"This is a student-centered space. We want students to feel welcome and supported here," said Erin.


Working together to serve students
The hope is that students will connect with learning support services early-on and then throughout their academic journeys as the need arises.

Academic advising services help students navigate academic decisions (e.g. selection of majors, minors, concentrations), make course selections, understand program requirements and more. At the Mount, academic support services and faculty advisors work together. In addition to the advising services provided by the centre, Mount students are supported by faculty advisors within their programs of study.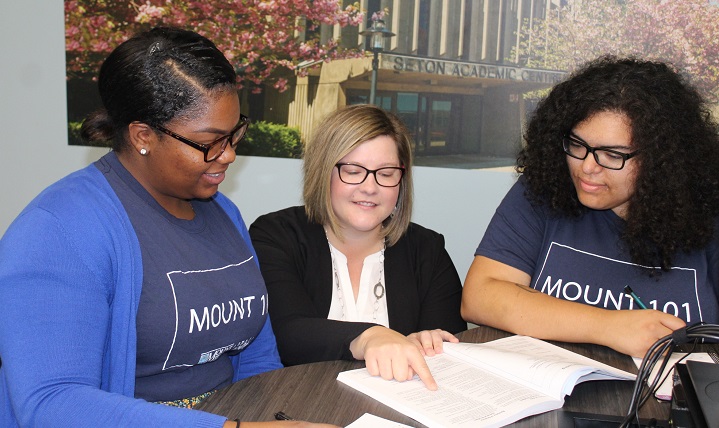 The centre is home to personalized academic advising services (as Erin noted "flexible and tailored to meet student needs"), as well as the coordinator and Mount mentors behind the new first-year student success program called Mount 101. Students can attend sessions hosted by the Mount 101 mentors and use the space to complete the Mount 101 program (there are comfy seats and pod-style collaborative workspaces available – and, likely, a mentor nearby to help!).

Additional services offered by the Centre include supplemental instruction, the transfer student coordinator (a joint role with Admissions) and the Right Start program. Supplemental instruction services provide free, weekly peer-facilitated study for courses that have historically challenged students, while the Right Start Program allows faculty to refer students who show signs of struggling with a course within the first six to eight weeks of class for advising – it's a chance for the students to get back on track with a little extra help. Students who visit the Centre can also be referred to academic support services such as the learning strategist and the Writing Centre. Additionally, there are plans for collaboration with other services on campus.

There truly is something to meet just about every learning need. All students have to do is call, connect or stop in. "Students shouldn't hesitate or wait to access these services," said Erin. "We are ready to support students at every stage of their academic journey."

The Centre for Student Success and Academic Advising is located in Seton 304. Students can book appointments in the space by calling (902) 457-6657 or by email at advising@msvu.ca. Follow the Centre on Facebook here.