Mount Saint Vincent University (MSVU) is proud to announce that Dr. Shannan Grant (Department of Applied Human Nutrition) and colleagues/ friends have received funding from the Natural Sciences and Engineering Research Council of Canada's (NSERC) PromoScience Program to continue their day camp program, established in 2017 by Veronica Gore, Art Stevens, Dr. Tamara A. Franz-Odendaal, Dr. Danielle Cox, and Dr. Grant. The funding will total $107,238 over three years (2020 to 2022), with potential for a one year extension, due to the COIVD-19 pandemic).
The second iteration of Two-Eyed Seeing (TES) Day Camp will be managed by a Leadership Team, organized by Dr. Grant (Assistant Professor, Department of Applied Human Nutrition, MSVU) in collaboration with Dr. Shane Theunissen (Assistant Professor, Department of Child and Youth Study, MSVU), Ann Sylliboy (Post-Secondary Consultant, Mi'kmaw Kina'matnewey), Velvet Paul (Director of Education, Sipekne'katik), Jeff Purdy (Acadia First Nation), and many others.
In fact, in light of the current physical restrictions, the TES Camp will be offering online multi-media-based workshops (at least one per month), starting June 2020 with Getting to Know Amu (the Bee) and concluding with a workshop focused on traditional Mi'kmaw and other approaches to self-care/ wellness. The amu workshop is currently being co-created by MSVU's Digital Media Zone (DMZ), MSVU's on-campus Bee Keeper (Jillian Ruhl) and the Confederacy of Mainland Mi'kmaw (CMM) Pollinator Project Coordinator (Peter Steiner). Building on a popular 2018 to 2019 TES Camp activity, youth will remotely participate in Bee Keeping 101, an online workshop developed by Jillian Ruhl, Peter Steiner, and Chelsey Purdy (TES Camp Manager, Acadia First Nation, 2020 MSVU graduate), with input from Dr. Tuma Young, Assistant Professor, Indigenous Studies, Unama'ki College. Input from Tuma and Elder Albert led to the expansion of this workshop to include a diversity of pollinators native to Mi'kmaki, a question and answer focused on addressing common myths about pollinators and directions/support on how to create supportive environments for bees and other pollinators.
"As someone who has been involved with TES Camp development since 2017, I will take this time to say it has been exciting to watch it grow over the past few years. Although we will be implementing online this year, I am excited to find creative ways to co-learn with youth, community members, Elders, Knowledge Keepers, and Scientists and to co-create and share knowledge. Also relevant, this opportunity (made possible by NSERC) to manage the camp online has given me full time employment and the ability to maintain and grow my connections with community during the pandemic."
~ Chelsey Purdy, member of Acadia First Nation
Guided by the principle of Etuaptmumk (TES), TES Camp engages Atlantic Indigenous youth (grades 7 to 12) in hands-on science (yes, even online), and introduces them to the diversity of experiences and the opportunities that an education in science, technology, education, and mathematics (STEM) can offer. Campers will participate in activities designed to explore a diversity of basic and applied sciences. In past years, these activities have included using dream catchers as a tool for reinforcing math curriculum and a Botany Laboratory, rooted in traditional Mi'kmaq plants.
"Etuaptmumk guides us to see through one eye with the strengths of Indigenous Knowledge and through the other with the strengths of Western Science. It is an internationally recognized and celebrated approach, founded by Elder (Dr.) Albert Marshall, (the late) Elder (Dr.) Murdena Marshall and Dr. Cheryl Barlett, in Unama'ki. It has molded how I teach, learn, research, and show-up in this world. During camp activities, campers are given opportunities to see through both eyes, by engaging in hands-on activities and discussion with a diversity of knowledge keepers. We all learn together."
~ Shannan Grant, Non-Indigenous Settler born on Unama'ki
On Turtle Island, Indigenous people are under-represented in STEM and health science programs at the university level and related fields. The TES Camp grew out of community-based interest to address this gap by offering sustainable, community-based STEM camps, guided by Etuaptmumk.
Learn more about previous Two-Eyed Seeing Day Camps:  
Two-eyed seeing summer camp launched this week (July 2018) 
NSERC-Promo Science Summer camp blends Indigenous and Western science for youth (July 2019) 
Media contact: 
Gillian Batten 
Director, Communications 
Mount Saint Vincent University 
902-441-0505 
Gillian.Batten@msvu.ca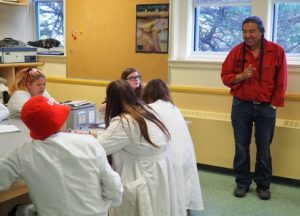 Elders Gary Joseph and Eileen Brooks of Sipekne'katik First Nation co-facilitating a Biology/ Botany Laboratory at Mount Saint Vincent University (students then brought their lessons learned back to their own communities). Photo taken TES Camp 2019.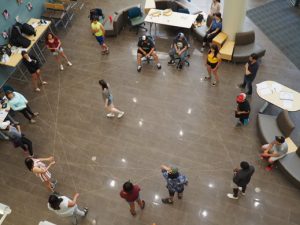 Jaclyn MacNeil, AHN undergraduate student and camp counselor, TES Camp 2019 , co-creating a dream catcher, while learning basic math skills, with students from Pictou Landing First Nation and Sipekne'katik First Nation. Photo taken TES Camp 2019.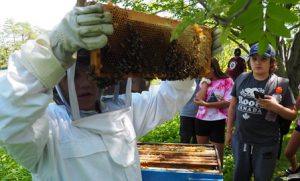 Joel Francis, 2019 community-based youth mentor (from Sipekne'katik First Nation), co-facilitating an activity about amu (the bee), for his peers. Photo taken TES Camp 2019.