MSVU Researchers develop new recipes for Acadian Seaplants' Unique sea vegetables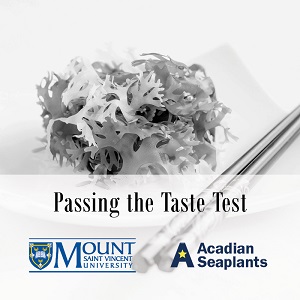 Acadian Seaplants, a seaweed harvester and cultivator in Dartmouth NS, makes seaweed-based products for people, animals and plants.
Its Human and Animal Wellness Division offers a suite of products for global health and beauty, brewery and animal feed industries which are all processed from seaweed; Acadian Seaplants is also home to the world's largest land-based cultivation system where it grows seaweeds for the Asian food market.
One item on their menu, Hana Tsunomata® (Hana), is a dried seaweed product that can be re-hydrated and added into a variety of recipes. The tri-coloured sea-vegetable is a popular ingredient in Japan and other Asian countries, but the company sought to increase demand for their crop in Western markets.
To accomplish this, the company connected with Dr. Bohdan Luhovyy and his research team in the Applied Human Nutrition Department at Mount Saint Vincent University (MSVU).
"The project we have with Dr. Bohdan Luhovyy is exciting and very practical from a commercial point of view. We are very pleased to be working with Dr. Luhovyy and his team because of their expertise, industry experience and their research infrastructure," said Dr. Jaouad Fichtali, Vice President of Research and Development, Human and Animal Wellness for Acadian Seaplants.
Luhovyy and his team are formulating recipes using Hana, evaluating the taste and how full they make people feel. From this collaboration, healthy seaweed recipes developed for a western palette will be formulated, and Acadian Seaplants can expand beyond its largely Japanese clientele.
Over the past six months, MSVU researchers developed multiple Hana-based recipes, conducted taste-tests with a team from Acadian Seaplants and completed nutritional profiles on the best candidates. They're also evaluating recipes for their impact on a person's appetite and physical comfort to determine the potential for Hana to be used for weight management and nutrition.
Our IEP, Danielle Goodfellow, made sure this industry research partnership ran smoothly by assisting with a NSERC Engage Grant application and the completion of a non-disclosure agreement.
And this is not the first instance where Acadian Seaplants accessed expertise from the Springboard Network, having worked with researchers from the Nova Scotia Community College (NSCC) and Collège Communautaire du Nouveau-Brunswick (CCNB) in the past.
"Without exception, Acadian Seaplants has enjoyed significant gains by partnering with members of the Springboard Network," said Dr. Fichtali.
"In every instance, the caliber of the science, their willingness to understand our market requirements and commitment to help us solve our technical issues has been unparalleled."
This collaboration with researchers and Springboard IEPs at MSVU helped a long-standing Atlantic Canadian company commercially position its products in an untapped market and achieve its growth objectives. Read about all the other ways our members have helped support local industries.
About Springboard Atlantic Inc.
Springboard provides strategically positioned resources to Atlantic Canadian universities and colleges alike, helping them transfer both knowledge and technology into the private sector.