Tribute to Alexa McDonough planned
Mount Saint Vincent University will host in-person convocation ceremonies on May 19 and 20 as it recognizes the achievements of spring 2022 graduates. A graduation "re-do" is also planned for May 25 for all those whose convocations moved online during the pandemic (spring and fall 2020 and spring 2021).
Spring 2022 graduates will be joined by three new honorary degree recipients, including Retired Judge Corrine Sparks, the first African Nova Scotian to be appointed to the Bench and the first African Canadian female to serve on the judiciary in Canada (also a proud MSVU alumna); Dr. Marie Battiste, OC, FRSC, BS, EdM, EdD, a renowned scholar and advisor on decolonizing education and protecting Indigenous knowledges; and Deanne Fitzpatrick, a textile artist whose celebrated hooked rugs have been exhibited through public galleries and private collections.
MSVU will also celebrate the tremendous legacy of the late Alexa McDonough, OC, ONS, during its spring 2022 convocation.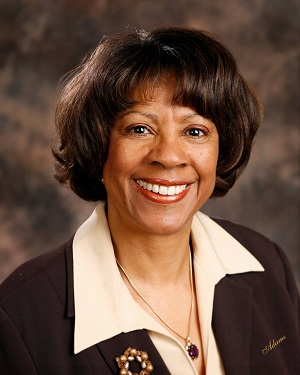 Retired Judge Corrine (Connie) Sparks, BA, LLB, LLM, was appointed to the Nova Scotia Family Court in 1987 becoming the first African Nova Scotian to be appointed to the Bench, and the first African Canadian female to serve on the judiciary in Canada. Throughout her long and distinguished career, Connie has demonstrated an enduring commitment to human rights and social and racial justice.
Born in Halifax, she is the eldest of nine children born to Helen and Spencer Sparks whose heritage dates back to the arrival of the Black Loyalists and Black Refugees as early settlers in the province of Nova Scotia in 1782 and 1812 respectively. Connie was raised in one of several racially segregated communities in Nova Scotia and attended a segregated grade school as a child. A graduate of both Mount Saint Vincent University (BA in Economics) and Dalhousie University (LLB and LLM), her graduate thesis explored the topic of reparations in connection to the relocation of Africville – an African Nova Scotia community (in the city of Halifax) which, regretfully, was demolished in 1969, in the name of urban renewal.
The recipient of numerous awards and honorary appointments, Connie has also fostered and facilitated judicial education, particularly in the areas of social context and gender and racial discrimination and the courts.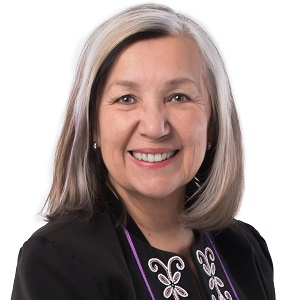 Dr. Marie Battiste, OC, FRSC, BS, EdM, EdD, is Mi'kmaw, a member of the Potlotek First Nation, and a member of the Aroostook Band of Micmacs in Maine. A Special Advisor to the Cape Breton University on Decolonizing the Academy, she is also a Professor Emerita at the University of Saskatchewan, a 2019 Pierre Elliott Trudeau Foundation Fellow, an elected Fellow to the Royal Society of Canada, an Officer of the Order of Canada, and the recipient of numerous other awards and recognitions.
A graduate of Harvard and Stanford Universities, and the University of Maine, her passion, research and scholarly work in decolonizing education, cognitive justice through balancing diverse knowledge systems and languages, and protecting Indigenous knowledges have earned her recognition across Canada and the United States. She has published widely – over 80 chapters in books, journals, and reports, and six books, notably Decolonizing Education: Nourishing the Learning Spirit (UBC 2013) and Protecting Indigenous Knowledge and Heritage: A Global Challenge (UBC 2000), as well as multiple edited book collections.
Read Marie Battiste's full bio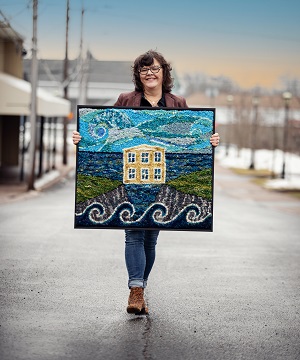 Deanne Fitzpatrick, BA, MEd, is a celebrated Atlantic Canadian textile artist who makes one of a kind hooked rugs out of yarn and wool cloth, following the same tradition as her mother and both her grandmothers. Her work is a reflection on love and memory, landscape and nature. Each rug is hooked by hand.
From the very beginning of her now 30-year career, she saw rug hooking as an art form – a method of self-expression – and has sought to have it recognized as such. Deanne has successfully pursued solo exhibits in public galleries and the inclusion of her work in major permanent collections.
Deanne has written eight books and illustrated one. Writing is a big part of her practice as an artist and has been an important part of her ability to help revive the craft of rug hooking throughout North America. Each week, she writes a newsletter to more than 20,000 followers about art, life and creativity. Sharing her writing in her books, newsletters, and podcast is an important part of her creative process.
Read Deanne Fitzpatrick's full bio
Alexa McDonough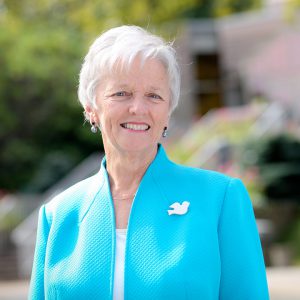 , OC, ONS, was a social worker, reporter, teacher and politician. She fought for worker health and safety improvements, human rights protections and pay equity, and has been a champion of international development and peace advocacy. Alexa was elected the leader of the Nova Scotia New Democratic Party in 1980, becoming the first woman to lead a major, recognized political party in Canada. After 14 years leading the NS NDP, she led the federal NDP from 1995 to 2003 and then continued to serve as a member of parliament until her retirement in 2008. She remains the only woman in Canada to have been leader of both a provincial and federal party.
Alexa received an honorary degree from MSVU in 2009, and served as the university's interim president from 2009 to 2010. In 2013, MSVU's Institute for Women, Gender and Social Justice was re-named the Alexa McDonough Institute for Women, Gender and Social Justice (or AMI) through the fundraising efforts of a group of labour union representatives. The institute's mission reflects what Alexa spent her career fighting for: equity and improved lives across communities through feminist initiatives, activism and a dedication to social justice. Alexa died in January 2022.
Convocation Ceremony Details
Our spring 2022 honourees will be celebrated during convocation ceremonies as follows:
Alexa McDonough tribute at 10 a.m. on May 19
Retired Judge Corrine Sparks at 2 p.m. on May 19
Dr. Marie Battiste at 10 a.m. on May 20
Deanne Fitzpatrick at 2 p.m. on May 20
Convocation ceremonies will be held in the Seton Academic Centre Auditorium and will be livestreamed on YouTube and Facebook.
About the degree of Doctor of Humane Letters, honoris causa
Mount Saint Vincent University recognizes distinguished individuals whose accomplishments are consistent with the mission of the university by granting the degree of Doctor of Humane Letters (honoris causa) – an honour which can only be bestowed by the University Chancellor at the request of Senate. The university honours worthy recipients who have contributed to the betterment of society and humanity in any field, but in particular, improvement of the status of women, contribution to higher education, humanitarian and social service, involvement with and fostering of culture and the arts, or leadership in a field of endeavour. The convocation at which the degree is awarded is greatly enriched by the presence of honorary graduands who share the joy of the occasion.
About Mount Saint Vincent University
As a leader in online and experiential learning, and based on a strong tradition of social responsibility, Mount Saint Vincent University takes a personalized approach to education to nurture socially responsible global citizens. Founded in 1873, the Mount has been nationally recognized for having one of the lowest student-to-professor ratios, for providing students early access to valuable research opportunities, for its legacy in the advancement of women, and for facilitating critical advancements in food security, healthy aging, literacy, and childhood development. MSVU is located in Mi'kma'ki, the unceded and ancestral territory of the Mi'kmaq People.
Media contact:
Gillian Batten
Director, Communications
Mount Saint Vincent University
902-457-6439
Gillian.Batten@msvu.ca