Mount Saint Vincent University (the Mount) celebrated approximately 600 graduates from 22 countries during spring convocation ceremonies held in Halifax, Nova Scotia on May 14 and 15. Students crossed the stage from Arts, Science, Education, and professional programs to accept a wide range of certificates, diplomas and degrees before becoming part of the Mount's network of more than 30,000 alumni.
"Our students truly bring to our University a commitment to a socially responsible philosophy – I believe it's a special kind of student we attract. And this year's graduates are wonderful examples of that special quality," said Dr. Ramona Lumpkin, CM, Mount President and Vice-Chancellor.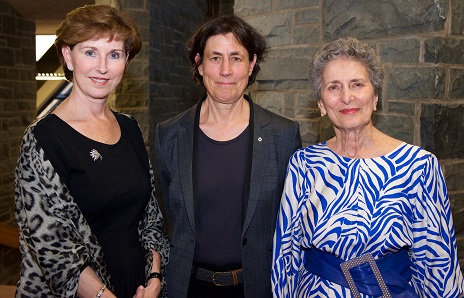 The Mount bestowed
honorary degrees
on three exceptional women (pictured at right): Natalie Zemon Davis, far right, renowned social and cultural historian; Chantal St-Cyr Hébert, middle, influential Canadian journalist, political commentator and author; and Kathleen Taylor, left, Chair of the Board of RBC and one of Canada's Most Powerful Women (Women's Executive Network).
Natalie Zemon Davis referenced the story of Anna Julia Cooper who, born a slave in North Carolina in 1859, achieved multiple university degrees following her emancipation. "The situation of women, of people of colour, and aboriginal peoples changed during Anna Cooper's day and then again in my own, and some of the changes were for the better. But the quest for freedom and equality among humankind is a permanent one. Your years at the Mount, dear graduates, have equipped you wonderfully well to contribute to that advance," she said.
Chantal St-Cyr Hébert told the story of the evolution of her career with humour and humility, highlighting for graduates that sometimes the best plan is no plan at all. Her remarks encouraged graduates to see the opportunity in every experience and also, "Do what you love and love what you do – and those are not always one and the same."
At Friday morning's ceremony, Kathleen Taylor encouraged graduates to be bold, be innovative and expect more of themselves and the word. She noted, "Aim high. And learn to love the journey not just the destination. Don't be afraid to shoot for the stars. If you aim high, even if you fall a bit short, you will still have accomplished many things that are so worthwhile. Falling down is a part of life. Getting back up is living."
---
Student Awards
Valedictorian Prizes for significant contributions to extra-curricular activities at the Mount and in the community-at-large were awarded to:
Andrew Fleming
, Bachelor of Business Administration, Southampton, Bermuda
The President's Prize, awarded to graduates whose generosity, energy and commitment enriches the university, was presented to:
Stacey de Molitor, Bachelor of Arts (English and Sociology/Anthropology), Jordan Falls, NS
Erika Murray, Bachelor of Public Relations, Riverview, NB
Asna Adhami, Master of Arts in Education (Graduate Studies in Lifelong Learning), Halifax, NS
Andrew Fleming, Bachelor of Business Administration, Southampton, Bermuda
Membership to Kappa Gamma Pi, the National Catholic College Graduate Honor Society, is based on scholarship, leadership, and service, and was presented to:
Shelby MacGregor, Bachelor of Arts (Honours, English), Halifax, NS
Lena Betker, Bachelor of Public Relations, Souris, MB
Melissa Sponagle, Master of Education (Graduate Studies in Lifelong Learning), London, ON
The Governor-General's Medal is given once per year for the highest aggregate in the final three years of a university program to one undergraduate level student, and one graduating master's student:
Undergraduate – Andrew Fleming, Bachelor of Business Administration, Southampton, Bermuda
Graduate – Cheryl LeBlanc-Weldon, Master of Education in Curriculum Studies, Sydney, NS
Faculty Recognitions
The Mount conferred titles of recognition on three pioneering leaders for their significant contributions to the University throughout the Mount's history:
Dr. Chris Ferns, Professor Emeritus, English Department
Dr. Charles Edmunds, Professor Emeritus, Department of Mathematics
Terrence Paris, Emeritus (Librarian)
The Mount presented an Award for Research Excellence in recognition of a faculty member's contribution to the research community and to the University's research climate to:
Dr. Tamara Franz-Odendaal, Department of Biology and Natural Sciences and Engineering Research Council of Canada's (NSERC) Atlantic Chair for Women in Science and Engineering
The Mount presented the Senate Award in Service in University Governance in recognition of a faculty member's extensive, consistent, and valuable contributions to the academic governance of the University:
Deborah Norris, Associate Professor, Department of Family Studies and Gerontology
About Mount Saint Vincent University
Recognized as a leader in flexible education, applied research, and a personalized approach to learning, Mount Saint Vincent University has been nationally recognized among Canadian undergraduate universities for our success in Social Sciences and Humanities Research Council grants and for having one of the lowest student-to-professor ratios. Based on a 140-year legacy in the advancement of women and instilling a strong value for social justice in our students, the Mount is committed to being a model of creative teaching and research that nurtures socially responsible global citizens.
---
For more information:
Kelly Gallant
Communications, Marketing and Student Recruitment
902-457-6339
Kelly.Gallant@msvu.ca