Stay Connected Mental Health Project recognizes benefits of campus peer support groups
After tragically losing their son to suicide, Fred and Elizabeth Fountain sought to help fill the gap of support for individuals transitioning from child and youth to adult psychiatric care and work towards earlier diagnosis of youth mental illness. Through a generous donation, the Fountains established the Stay Connected Mental Health Project through Capital Health, which includes funding for Peer Support Groups at all universities in Halifax.


Peer Support Groups provide a free and confidential on-campus service led by students for students through which those in need can receive emotional and social support. Each campus is equipped with two trained Peer Support Leaders who have themselves experienced mental illness.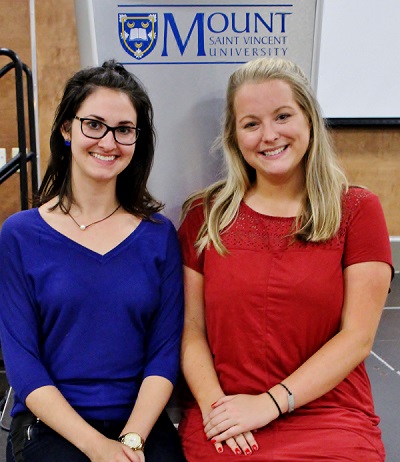 Meet Morgan and Lianne
Students Morgan Atwater and Lianne Cleveland are peer support leaders at the Mount. Morgan was inspired to get involved as a means of giving back. "I was diagnosed with generalized anxiety and depression after finishing my first year of university; a counselor at the Mount helped me begin my path of taking care of myself and becoming more aware," she said. "I am a person who believes in paying it forward, so if people are helping to get me to my best version of myself, I express gratitude by doing the same."

Peer support is provided via special programs and a casual drop-in sessions that can include anything from therapeutic colouring, assistance with homework and decorating cupcakes to chatting with members of your campus community about specific worries and concerns.

The main reasons that students at the Mount access peer support is for a nonjudgmental, confidential and fun atmosphere that can be a space in which to talk about mental health struggles, relationships, academic stress and much more. Morgan describes the program as being "a place on a spectrum – one end is counselling and diagnostic models and on the other end you have friendship, and peer support falls in a funny place in the middle."

Lianne and Morgan are also in the process of establishing drop-in hours specific to residence students as they feel the transition to living away from home can be difficult. Lianne highlighted the benefits of seeking help from peers. "It feels great to connect with people and think 'I know what you mean' and 'we can get through this'," she said.

In addition to providing peer support programs, the Stay Connected Mental Health Project is offering Mental Health 101 workshops at the Mount and elsewhere – a program on how to help someone who may be in distress delivered twice a semester to faculty and staff. The workshop covers triggers or causes of mental illness, warning signs, how to intervene and advice from medical professionals.

One of the greatest struggles Lianne and Morgan have identified is the fear students feel about reaching out for help. Lianne noted, "Often people just need a sounding board and need to know that what they are feeling is valid." Both mentors suggest bringing a friend to a peer support drop-in session or sending an email to the MSVU Peer Support Group address if a student is feeling unsure about attending (peer.support@msvu.ca).
Peer Support Program
If you are interested in learning more about the Peer Support Group at the Mount, email peer.support@msvu.ca or drop-in to the MSVUSU Wellness Centre (first floor Rosaria) at one of the following times:
Monday 7 p.m. – 9 p.m.
Tuesday 7 p.m. – 9 p.m.
Wednesday 5 p.m. – 7 p.m.
Thursday 5 p.m. – 7 p.m.
Other sources of support:
Mount Saint Vincent University Counselling Services
Free and confidential service for all students. To inquire about booking an appointment or if you have further questions, drop by EMF 127G or:
Phone 902-457-6567
Email counselling@msvu.ca
Mental Health Mobile Crisis Team (NS Health Authority)
Local 902-429-8167
Toll-free 1-888-429-8167