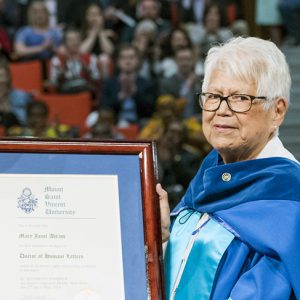 It is with sadness that we write to share the news of the passing of Elder Jane Abram.
Jane (Young) Abram, BEd, DHumL, from Millbrook First Nation, was the second youngest of 11 children born to Thomas and Sara (Bernard) Young. A survivor of the Shubenacadie Indian Residential School, Jane was a passionate advocate in education on behalf of Indigenous Peoples, starting with her work as a teacher's aide at St. Mary's Elementary School. The Mi'kmawey Debert Cultural Centre published Jane's survivor story on their website.
After graduating high school, she continued her education at the Nova Scotia Teachers College and then earned her Bachelor of Education Degree at MSVU. In 2018, Jane was awarded an honorary degree from MSVU.
Jane assisted Indigenous students at the university level for many years, guiding students as they moved off the reserve and providing them a network of support, as well as serving as a mentor to students throughout their university careers, including as the Elder in Residence with Dalhousie University's Schulich School of Law.
At her address to graduates at the spring 2018 convocation at MSVU, Jane said: "Today I ask you – no matter what your professional path may be – to change the way you see my People. We have been through much more than I could ever discus with you in one day and we need people willing to collaborate with us. I need you to become a partner within our communities. We need to move forward with one another in order to build a better tomorrow."
On behalf of MSVU, we extend our heartfelt condolences to Jane's family and friends, and to all members of her community. Any students in need of support are encouraged to be in touch with the Kina'masuti aqq Apognamasuti (Indigenous Student Centre).
Dr. Joël Dickinson
President and Vice-Chancellor
Mount Saint Vincent University
Patrick Small Legs-Nagge
Special Advisor on Indigenous Affairs
Mount Saint Vincent University