MSVU Art Gallery hosts Voices in Longitude and Latitude until May 11.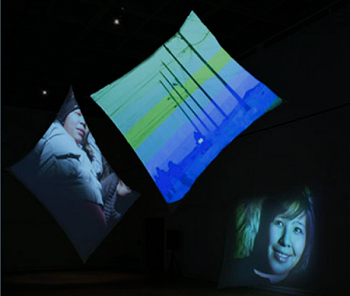 Research, art and fresh perspectives on girlhood collide in the newest exhibition to arrive at the MSVU Art Gallery. Voices in Longitude and Latitude is a multi-screen video installation that overwhelms, disorients, and draws audiences into the varied experiences of diverse young Canadians.
The exhibition is the result of collaboration between Dr. Marnina Gonick, Canada Research Chair in Gender, and her brother, renowned Winnipeg filmmaker Noam Gonick. Marnina's research methods encourage girls to analyse their own social and cultural practices through conversation, a format that proved to be an excellent fit with Noam's innovative approach to sculptural video installations.
For Voices, the Gonicks captured perspectives on girlhood through interviews with transgendered youth in Halifax, Jewish girls in Toronto, East African immigrants in Winnipeg, and Inuit girls in Kugluktuk, Nunavut. Not surprisingly, the four communities showcased a vast range of experiences.
"We tried to honestly depict what their reality was, as much as they would let us in," said Noam. "With the Toronto girls, we got right into their homes. With the Kugluktuk girls, we got the longest duration and were welcomed into their homes, but asked not to film in them."
"The Winnipeg girls, who are originally from Sudan, Congo, Ethiopia and Rwanda, were really into celebrity culture and pop music whereas many of the girls in Kugluktuk were already mothers," added Marnina. "Their accounts of their relationships to their babies were very touching. Their view of what it means to be a girl and their expectations of life were different from any of the others."
Voices combines sights, sounds, and emotions into an 18-minute loop taking place across four angled screens, and a multi-speaker sound system including two parabolic speakers. The result encourages visitors to explore the gallery in order to catch competing stories from across the country.
"You really have to move through the piece; you have to reflect on what you are seeing," said Marnina. "You get caught by an image on one screen or a sound and have to turn your head and move around."
Ingrid Jenkner, director of the MSVU Art Gallery, hopes this collaboration between art and research can serve as an inspiration to the local community.
"Lots of classes have come through to see the installation. This shows great potential in getting audiences to interact with research in new and creative ways, many of whom may also be experiencing contemporary art for the first time."
Voices in Longitude and Latitude
is on display in the MSVU Art Gallery until May 11, 2014. A fully illustrated catalogue containing an introduction by Ingrid Jenkner and writing by Marnina Gonick will be available for purchase on May 30th, 2014. The project was made possible by funding from the
Social Sciences and Humanities Research Council
(SSHRC) as well as a research grant from the Mount. Its presentation at the MSVU Art Gallery is made possible by support from the
Canada Council for the Arts
.