Tourism & Hospitality Management students operating teaching restaurant at MSVU
You don't have to leave the Mount campus this winter to experience an exceptional dining experience. Vincent's Restaurant located in Rosaria Hall is open for business, serving up mouth-watering, student-inspired dishes from around the world.
Vincent's Restaurant is a teaching kitchen where students learn about the various aspects of opening and running a restaurant. Lab instructor
Jennifer Guy
(pictured at centre right, below)
is passionate about providing opportunities for students to put their learning into practice.
"Opening Vincent's restaurant is the second part [THMT 2216] of two required courses for students enrolled in the
Bachelor of Tourism and Hospitality Management program
. In the first part of the course, students learn how to supervise a kitchen, greet guests, and apply food safety knowledge as they learn how to cook and serve. We spend the first six weeks practicing service skills, developing managerial competencies and standardizing recipes. In the last half of the course, we open up the restaurant for business. The classroom turns into a dining room, and each student gets a chance to take on different roles, including manager, server and kitchen staff," says Jennifer.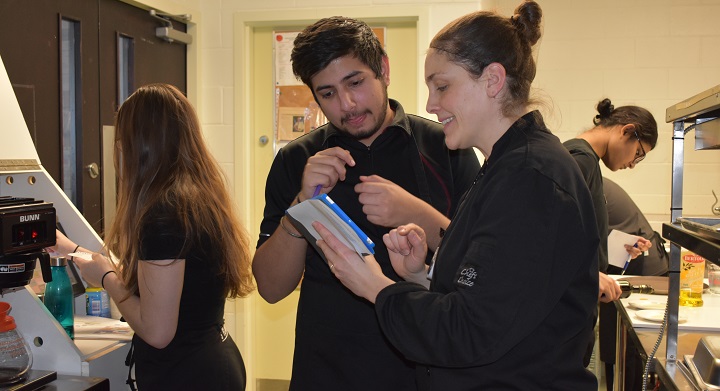 Student-inspired global menu
In the first required course (THMT 1116), students are encouraged to share their own recipes as part of the menu selection process.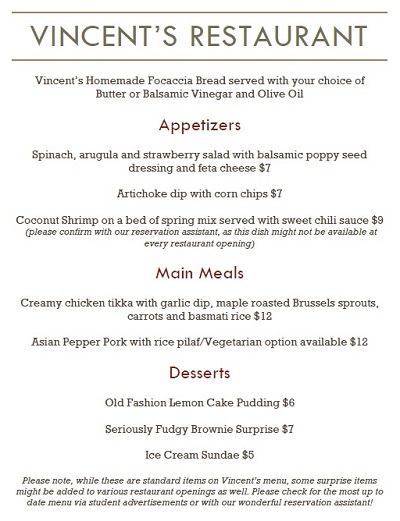 "Now that we are living in a more global, diverse society, I feel it makes cooking more meaningful if students can come forward with their own recipes and be more self-directed and actually guide the curriculum alongside what I do," notes Jennifer. "The class tastes various recipes and then we vote on our favorites which go into forming the menu. I still provide French and Canadian cuisine options for students to learn how to prepare, but a lot of the dishes this year are inspired by global palettes. One of our dessert items was inspired by a student's grandmother's recipe that has been in the family for years."
To view the full menu at Vincent's for the winter term,
click here
.
(Disclaimer: clicking that link may leave your mouth-watering and tummy grumbling.)
A chance to try multiple roles
In addition to learning about the various roles involved in running a kitchen, through Vincent's, students are also developing their teamwork and leadership abilities.
"Vincent's is essential because students are applying practical learning in an experiential setting. They are essentially getting a workplace simulation. They learn things like team building, leadership skills, conflict resolution and other skills in a way that a traditional classroom setting does not always offer. We are also building cultural capacity by learning about different foods from around the world, as well as communication skills."
For first-year tourism and hospitality student Raven Richards, the course has opened her eyes to future career opportunities. "I wasn't thinking at all about food services before this food lab course. I have learned a lot about stress management and being able to communicate with others. It can definitely be busy trying to get all of the orders out in a timely manner, but it's been a great experience. I'm actually thinking about going into food service now."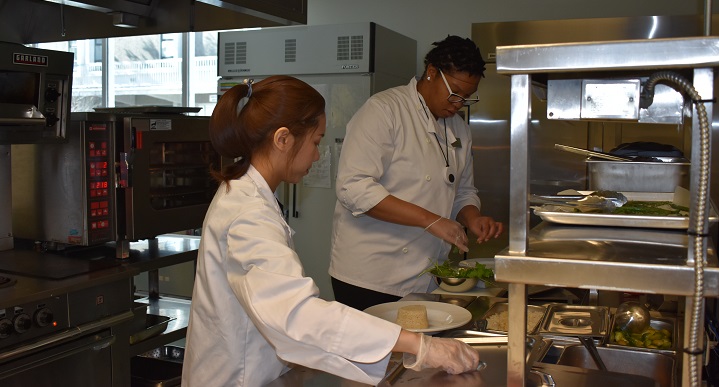 In the restaurant manager role, Raven (at right above) was responsible for ensuring that the kitchen was set-up and that all members of the team were aware of their duties and responsibilities. "Essentially, I'm looking to make sure people are on task, helping others out and ensuring the food looks good going out to customers. I've been doing overall task management and, in the background, I'm doing dishes or helping people find things they need."
First-year tourism student Hannah Blair has found the experience to be both challenging and enriching. "In my role as a server, I found it a little stressful at the beginning and I was a bit shaky at first, but with more practice it gets better. People seem to be really happy with the food." Prior to taking this course, Hannah had worked in a fast-food restaurant, but she feels this experience has given her insight into all of the components that go into planning and operating a kitchen. "It's been great to learn about all of the different roles and to work together as a team. Next lab I will be in the kitchen preparing foods which I'm also excited for."
In order for students to pass the course, they are required to take on many different roles, which Jennifer believes adds to the overall learning experience. "It is busy and exciting. You can prepare as much as possible, but there are always things that pop up which is part of the experience. There are a lot of smiles and we are having a lot of fun together."
Interested in dining at Vincent's and supporting MSVU tourism students? The restaurant is open to anyone interested. Reservations are required and can be made by phoning 902-457-6516 or emailing
vincents@msvu.ca
.
Vincent's Hours of Operation
Lunch Dates: March 13, April 3
Lunch Reservation Times: Between 11:30 a.m. and 2 p.m.

Dinner Dates: February 26, March 2, March 3, March 11, March 16, March 17, March 30
Dinner Reservation Times: Between 4:30 and 7 p.m.