Extensive PD programming available
The Department of Child and Youth Study at Mount Saint Vincent University is collaborating with the Province of Nova Scotia and wider community to offer extensive professional development opportunities for early childhood educators (ECEs).
Started in 2002 with funding from then Early Childhood Development Services within the Nova Scotia Department of Community Services (now the Department of Education and Early Childhood Development), MSVU's Child and Youth Study professional development program has expanded to be one of the most extensive in Atlantic Canada. Today, MSVU offers a range of learning opportunities in accordance with the needs of the sector and input from government.
Sessions provide in-depth opportunity to explore topics of importance and feature the expertise of MSVU Child and Youth faculty, as well as professionals in the field from across Nova Scotia and beyond. Rhonda Rees of MSVU's Child and Youth Study department coordinates the department's PD offerings together with
Dr. Fernando Nunes
, Department Chair and faculty supervisor for the program.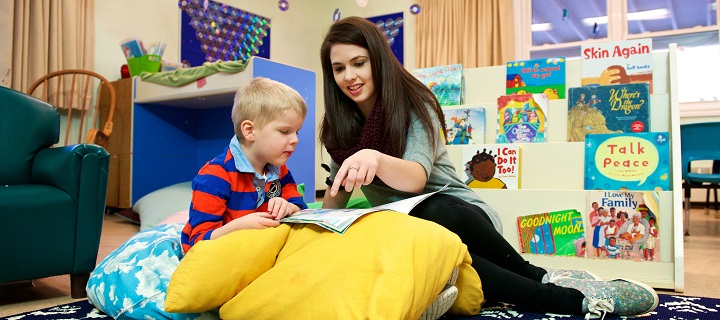 Career-enhancing opportunities
MSVU's Child and Youth PD workshops count towards the required professional development training hours for ECEs in Nova Scotia. And they provide attendees with skills to enhance their careers.
For example, the
Early Childhood Educator Administrator Continuing Education Course
trains participants to run a successful early learning and childcare program. Facilitated by faculty from MSVU and Saint Mary's University, together with representatives from the provincial government and other early childhood consultants and professionals, this nine-month course helps students fine-tune their leadership skills, knowledge and competencies. It regularly draws participants from across the Maritimes.
And while some PD courses span many weeks or months, others are offered as one-day intensive learning workshops. Through these sessions, participants not only expand their knowledge, but they also come away with practical strategies that can be immediately applied in their work. They also expand their professional networks and connect with additional resources. Topics vary from cultural diversity in the classroom to trauma-informed care. One of the most in-demand workshops offered focuses on behaviour management, including the importance of effective communication and positive relationship building.
Exploring intentional early learning space designs
Another of the Child and Youth Study department's most popular PD offerings actually takes students on the road. The Inspiring Spaces and Environments bus tour takes learners directly into childcare centres around the region.
Offered twice a year, attendees spend the day visiting various centres to learn about different learning spaces. Participants hear from ECE staff in each centre about the "why" behind their facility designs, including how each facility is adapted to the needs of its unique community. This hands-on approach gives learners a chance to explore intentional designs of learning environments and their importance in early childhood development.
Provincial workshops
In addition to its own PD programs, MSVU's Child and Youth Study department is also a facilitator of the
Nova Scotia Early Learning Curriculum Framework Workshops
. With funding from government, these provincially-designed workshops are provided free to current ECEs in Nova Scotia. They are enabling the province-wide roll-out of the "Capable, Confident and Curious framework" developed by the Nova Scotia Early Years Professional Development Committee a couple of years ago.