paraMount summer 2015:
Helping Mount students and parents get back-to-school ready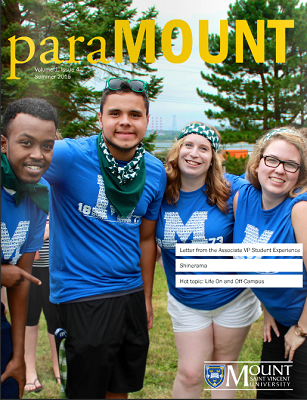 A great way to set your student up for success at university is to stay connected to their experience – and being familiar with what's happening on campus, including services to support your student, is a great place to start. As a publication designed for Mount parents, paraMount can help keep you connected – click here to sign-up to receive future editions.
Understanding that the first year of university can be nerve racking, the
latest edition of paraMount
focuses on student orientation. It's full of great tips and tricks, opportunities and suggestions for students and parents who are new to the Mount family.
In this edition, previous students answer some questions designed to help make the transition to first-year easier for future students. Here are a few excerpts from what they had to say:
What is the biggest change you experienced moving from residence to off campus?
• More independence means more responsibilities
• Having to budget money a lot more carefully
What advice would you give to students who will be living off-campus for the first time or who will be commuting from home as a first time Mount student?
• Stay later at school to get things done, because once you're home you lose all motivation to do work.
• Pick your roomie wisely. I have lived with 4 of my friends, and we had a lot of great times but you learn your friends can be messy or loud or careless. It's better to live with people based on characteristics rather than memories.
What's one thing you wish you would have brought with you to residence in your first year?
• Power bar
• Bed risers for more storage space
If you had the chance, what's one thing you would tell your first-year self?
• That everyone is nervous
• The school year isn't as long as it seems, don't hide in your bedroom – make friends!
Check out the
full edition
for lots more tips and tricks, on-campus and off-campus perspectives and information on orientation week and the student experience.
And, to all parents of new students, welcome to the Mount family!