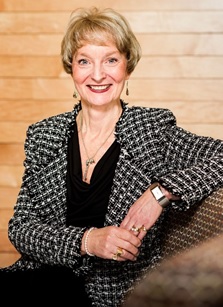 This holiday season I find myself thinking often of how grateful I am to have had the opportunity to join the Mount community. My installation last month was a high point of my career and a warm welcome for which my husband Cliff and I are both very thankful.
There is something (lots of things!) incredibly special about our Mount. So many organizations make similar claims, but it's overwhelmingly the case here. I'd heard wonderful things before I arrived on campus, but until you're within, you can't really test those statements.
It's true: the Mount is a gem of a University – a place that has a very clear focus on what matters and that is home to tremendously talented students, faculty and staff.
Here's a little of what stood out this year:
We hosted the Walking With Our Sisters memorial installation
– a commemoration honouring missing and murdered Indigenous women, girls, Two-Spirit people and their families through ceremony, community and reflection. Hundreds attended the opening and subsequently visited the memorial in the two weeks it was at the Mount Art Gallery. [
More
]
We made great progress on our new research centre.
Construction of the Mount's new Centre for Research in Applied Human Health is on time and on budget, with the facility set to open by the spring of 2018. It will be home to research on diabetes, obesity, Alzheimer's disease, vitamin deficiency, early childhood health and well-being, and more. [
More
]
We welcomed a new Special Advisor to the President on Aboriginal Affairs.
In this role, Patrick Small Legs-Nagge will play an important part in supporting the success of Aboriginal learners and ensuring meaningful relationships with the Aboriginal community, both of which are of great importance to the Mount. [
More
]
We launched an innovative new program.
Starting in September 2018, the new program in nonprofit leadership – the only one of its kind in the Atlantic region (i.e. available as a major, minor, concentration or certificate) – will prepare students for careers in community and global leadership in the nonprofit sector. [
More
]
Lastly,
we said farewell to my predecessor Dr. Ramona Lumpkin
whose recent legacy of leadership provides us with remarkable accomplishments upon which to build. As well, more than $700,000 was raised this year in support of a new endowed graduate scholarship honouring Ramona and her husband Dr. William Blackburn. [
More
]
And while we've accomplished a great deal, this year has not been without its challenges. There have been times that have tested us, and my belief is that, through careful consideration of those challenges, we will be even stronger in 2018.
What about 2017 sticks with you the most? Has this been a year of great success for you? Of new experiences? Of adventure? Perhaps a year of challenge? A year that you're happy to see come to an end?
What is most important is that we celebrate our triumphs and consider our challenges. Take what you need from 2017, learn from it, and move forward.
No matter what 2018 brings, may we all be reminded of how fortunate we are to call the Mount our university home. I know how fortunate I am to call you my university family.
Wishing you and yours all the best of the season,
Mary
Dr. Mary Bluechardt
President and Vice-Chancellor
Mount Saint Vincent University