Memorial in Halifax January 14 to February 1, 2017
The Walking With Our Sisters Planning Committee today marked the opening of the K'jipuktuk (Halifax) memorial installation at the Art Gallery at Mount Saint Vincent University. The memorial will be open to the public during regular gallery hours from January 14 to February 1, 2017 (11 a.m. to 5 p.m. Tuesday to Friday and 1 p.m. to 5 p.m. Saturday and Sunday). Today's opening included a welcome ceremony led by a group of local Elders, as well as a feast.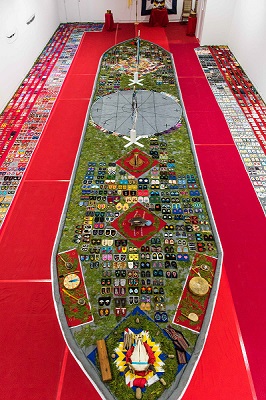 Walking With Our Sisters is a commemoration honouring missing and murdered Indigenous women, girls, Two-Spirit people and their families through ceremony, community and reflection. It presents more than 1,800 pairs of moccasin tops (vamps) made by contributing artists and arranged in a winding path formation. The moccasins are unfinished, symbolizing over 1,180 sisters, mothers, aunties, daughters, cousins, grandmothers, wives and partners whose lives were tragically cut short over the last thirty years. More than 100 pairs of children's vamps are also included, representing the children who never returned home from residential school.
This installation of the memorial marks the only Atlantic Canadian location to date during its journey across Canada and the US.
"Today's ceremony and the presence of this memorial here in Mi'kma'ki give a renewed sense of support for our community and lost sisters," said Catherine Martin, Nancy's Chair in Women's Studies at Mount Saint Vincent University and a member of the WWOS Planning Committee. "The memorial provides an opportunity for our community and supporters to come from all over the region to mourn our great losses together and find renewed inspiration to help each other and keep moving forward to heal, while never forgetting where we've come from and the sisters we've lost."
The opening ceremony was attended by members of the Atlantic First Nations community including elders, family members of missing or murdered Indigenous women, keepers of the memorial and representatives from support organizations. Community members as well as public attendees were welcomed to attend the memorial after it had been prepared in reverent ceremony to host visitors.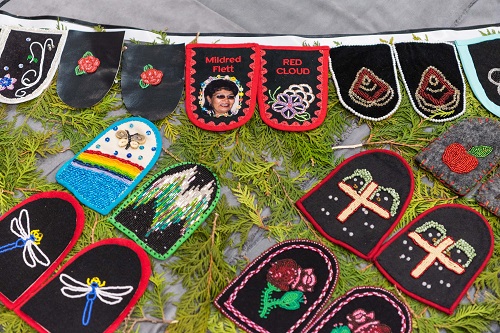 The presence of families of missing or murdered Indigenous women provided a foundation to honour the missing and murdered women, girls and Two-Spirit people. They provide real faces and stories to humanize the loss, and support others by demonstrating that it is possible to keep moving forward despite the tragedy.
"We must stand up for our missing and murdered women to show respect and honour. Also in the name of each and every woman who has been murdered or is still missing we have to keep talking and voicing our pain so that maybe one day all our sisters will be safe. We must show respect and love to all our sisters as each and every one of our stolen sisters has taught us something about life's lessons and how to move forward," said Natalie Gloade, daughter of Mi'kmaq activist Nora Madeline Bernard. Nora fought and won one of the largest class action suits in history against the Government of Canada and Catholic Churches on behalf of Shubenacadie Residential School Survivors, and was murdered by her grandson.
"I believe for each and every one of us who stands in solidarity with our missing and murdered women as well as our Two Spirited loved ones we must forgive in order to protect our hearts and spirit. Carrying hatred only hardens our souls and blocks the Creator from helping us on our journey of life on Mother Earth," said Natalie.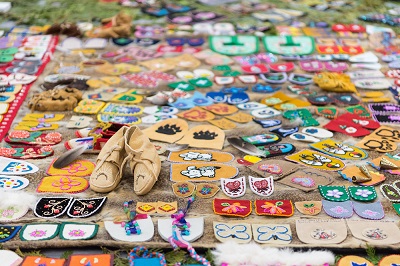 Denise Maloney Pictou, daughter of murdered Mi'kmaq activist Annie Mae Pictou Aquash attended the opening ceremony. The memorial plays an important role in helping her work to honour the legacy of missing and murdered Indigenous women.
"WWOS is an opportunity for surviving family members to memorialize and pay homage to their missing and murdered Indigenous women, family members and friends for the first time for some. It allows family members to send a very loud message to Canadians that our family members are not just statistics. Our women were breathing, loving human beings ripped unceremoniously and unjustly from our lives. There is some small comfort at least for me in knowing that the unified message that comes from such a memorial is one of love, honour and respect, something that few of our missing and murdered Indigenous women and families got to experience in their lifetime. It solidifies and creates a visual that cannot be dismissed nor marginalized with statistics as just another tragedy. It is real and tactile and the impact can be felt in the visual display of the vamps which further exposes the exorbitant numbers of missing and murdered Indigenous women and the national tragedy that it represents which no longer can be denied."
The tragedy of stolen sisters is one that is all-too familiar to the Atlantic region. The presence of this memorial has garnered a flood of support from organizations like the Native Women's Association and the Mi'kmaw Native Friendship Centre, both of which work tirelessly to provide support for victims, families and affected communities year-round and throughout the region.
"The Nova Scotia Native Women's association has long worked to raise awareness for missing and murdered Indigenous women, including a long history of working directly supporting families of our missing or murdered Indigenous women and girls. The WWOS project is a powerful piece reflecting a part of Canada's unfortunate reality, but it also brings together a spirit of hope and justice for the girls and their families," remarked Cheryl Maloney, President of the Native Women's Association.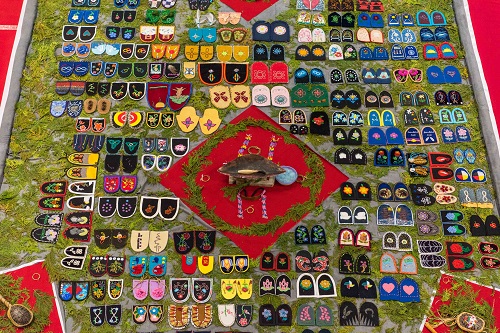 "As life goes on, we continue our jobs, but the families of our sisters experience grief that they live with every day. It is something that we cannot imagine," said Denise One Breath Mitchell (John), Victim Support Navigator at the Halifax Mi'kmaw Native Friendship Centre. She works closely with families of missing or murdered Indigenous women on a daily basis.
"When we have memorials, observe the commemorative dream catcher at the Friendship Centre which is installed as a sacred memorial for our stolen sisters, and work to keep their stories alive and remembered – the primary purpose is to honour our lost sisters and their families. We have the obligation to honour these women and not forget, no matter who we are or where we come from," said Denise.
During its time at MSVU Art Gallery, the memorial will be cared for by community members and elders who will work together to perform daily ceremonies to protect and maintain its scared nature.
This project has been supported by thousands of Indigenous and non-Indigenous women and men across the region who care deeply about this issue. It is rooted in the four principles of love, humility, protocol and volunteerism, and guided by local elders and community members.
MSVU Art Gallery is located at Seton Academic Centre, 166 Bedford Hwy, Halifax (Art Gallery entrance off of building lobby). For more about the Art Gallery, please visit
www.msvuart.ca
.