New psychology professor teaches students to challenge the status quo
New psychology professor, Chrissy Lackner believes the study of psychology is one of the most applicable disciplines to real-life. "Life is messy and different people have different experiences that lead them to behave in certain ways. Studying psychology offers a lens into who you are and gives insight into the people you love – what makes people tick."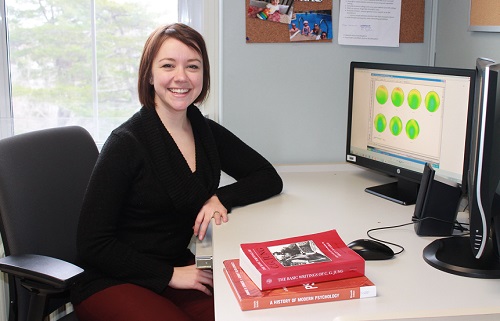 Growing up in Southern Ontario with a father who was a college psychology professor, Chrissy finds it amusing that she ended up following a similar career path. "I've learned a lot from my dad and he has been able to offer some humour when dealing with the challenges that come with teaching. He can relate on a different level and his career has certainly been inspiring."
And although her dad has played a role in her professional and personal journey, she credits her PhD supervisor, Dr. Sid Segalowitz, as being the biggest influence in her decision to pursue a career in psychology. "Dr. Segalowitz single-handedly influenced the direction I took in psychology. In my undergrad, I took Sid's developmental neuroscience course and fell in love with the material. I found myself back at Brock University to work with him for my PhD because I knew our research interests aligned. He has set up a lot of interesting collaborations that I'm happy to be a part of."
One of the collaborations Chrissy speaks of is with Dr. Karen Milligan at Ryerson University and her fellow researchers at the Child Development Institute. Chrissy has been working closely with Dr. Milligan to evaluate the effectiveness of a mindfulness martial arts program for children who have ADHD and a co-morbid learning disability. Data collection is still ongoing, however, Chrissy is finding the results promising.
---
"I like to bring the perspective that it is not all just nature over nurture. I like courses where I can fundamentally change the way people view the discipline and when I can pull them over to consider a different side."
— Dr. Chrissy Lackner, Department of Psychology

---
Breaking ground in research on self-regulation in children and youth
In her own research, Chrissy is looking at child and adolescent development. Her work is uncovering genetic and electrophysiology predictors in individual differences in self-regulation. "The analogy I use is that some adolescents go through this time period relatively unscathed; then, for others, it can be a very tumultuous time, where risk taking behaviour is at an all-time high. I'm looking at what factors may predict these differences. I'm not looking at it from a deterministic framework, realizing things like parenting styles and lived experiences impact brain development. Your past experiences change your brain and your brain helps direct the way you go about the world."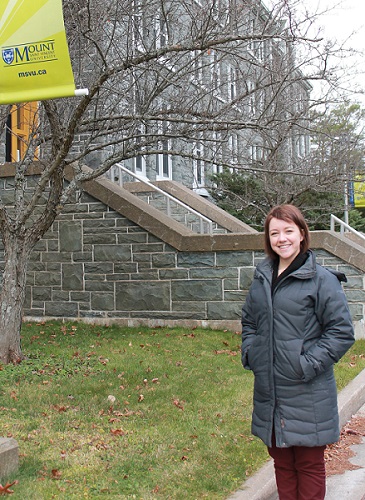 Closer to home, Chrissy's research has a direct impact when training students and opening their eyes to the possibilities of research and breaking down the deterministic facets of neuroscience and psychology. More broadly, her research contributes to an understanding of why some youth struggle more than others and the predictors behind it. On a practical level, her work helps to inform the works of clinicians who are developing youth intervention programs.

Dispelling myths about neuroscience, biology and the approach to understanding behaviour is something Chrissy feels passionate about incorporating into the classroom. "I like to bring the perspective that it is not all just nature over nurture. I like courses where I can fundamentally change the way people view the discipline and when I can pull them over to consider a different side."


In addition to challenging the status quo, Chrissy enjoys engaging with students through popular culture references. "I try to engage with students in a way that is appropriate for their life history stage. I encourage students to read about historical concepts, which can be abstract and take these ideas and see how they have had a long-lasting impact on our thinking in psychology. I guess it's about bringing historic learning into the 21st century."

When asked about what advice she would give to her students, she says, "Find joy in what you do and don't be afraid of hard work. The more you try to engage with the material you are learning the better."

And Chrissy is no stranger to hard work herself. She completed her Master's in Psychology at Queens University in 2009 and a PhD in Behavioural Neuroscience at Brock University in 2015. "Some of the most rewarding classes I have taken I have had to put in the most work. I would tell students not to be afraid of a challenge, because it will pay off."

Although she has many years left in her career, Chrissy is committed to leaving a legacy. "I'm affecting the future of the discipline by training the people who will carry the field forward. It's rewarding to know that you have had some impact in shaping ideas, and in my own research, which has an impact on psychological thought."