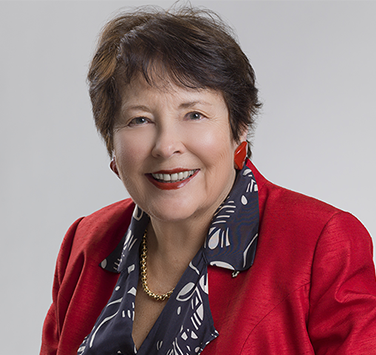 It would be difficult to find someone whose commitment to volunteerism or love of Nova Scotia compares to that shown by Dale Godsoe, CM – a long-serving community leader who has both been a member of and chaired numerous non-profit boards.
Her exemplary record of service includes time dedicated to high-profile organizations including YWCA Canada, Imagine Canada, the National Arts Centre, the National Ballet School, and the Canadian Centre for Philanthropy. Closer to home, Dale has served on the boards of the Provincial Autism Centre, Queen Elizabeth II Foundation, and Symphony Nova Scotia Foundation (where she was also chair), among many others. She has also been a director on a number of private sector boards.
Throughout her career and across sectors, it's Dale's dedication to education that really shines through. She enjoyed a career as a school teacher and, later, as a senior university administrator. She is also a past chair of the Halifax School Board and was chair of MSVU's Board of Governors from 1987 to 1994. Dale was awarded an honorary degree by the university in 1997.
Dale is also celebrated as part of the 18 Inspiring Women installation in the Margaret Norrie McCain Centre for Teaching and Learning at MSVU. The installation, which features prominently in the Elizabeth and Fred Fountain Atrium, spotlights the transformative impacts of 18 notable women. Dale became a Member of the Order of Canada in 1998 and she is also a recipient of the Canada Volunteer Award and the Red Cross Humanitarian Award.
A mother and grandmother, Dale enjoys spending time with her family and loves to read whenever she can find a few minutes to spare. ______________________________________________________________________________
MSVU's history is rich with the stories of countless people who've had an impact on the university and in the broader community. Over the course of 2023, we'll feature mini stories about 150 MSVU students, faculty, staff and alum. Check back often to meet more amazing MSVU people!