A letter from 2nd year student, Lucy Fisher.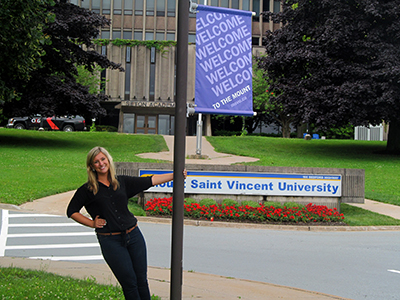 My name is Lucy Fisher and I am entering my second year of public relations here at the Mount. In my first year, I volunteered in the Public Affairs and Recruitment Office through the Student Ambassador program and I am currently back in the office as a Summer Events Coordinator and Recruitment Assistant.
Part of my job is to lead the tours that we offer of the Mount campus; it is through this that I have had the opportunity to listen to the questions and concerns of incoming students. It has been a huge satisfaction for me to be able to help these students, and to ease some of their apprehension about coming to university.
Working with these students gave me the idea to reach out to new students through the Go to the Mount in 2012 Facebook page and Twitter to post tips that might be helpful as you begin your journey here at the Mount! Over the next 20 days, I'll be using social media to answer the most frequently asked questions and to offer my personal tips formed from my first-year experiences.
This time last year I was gearing up for my first year as a university student. Along with excitement, I was filled with trepidation about the upcoming year. I had numerous fears that varied from not fitting in at school, to not having the proper books for my classes. I wish I had had some level headed advice from someone who had gone through the same experience!
A huge concern of mine last summer was registering for classes. I was unable to attend the early registration events that ease new students into life at the Mount . I was uncertain what classes to register for, and I did not trust my own judgment when looking through the Academic Calendar, so I booked an appointment with an academic advisor, on campus. This was a very easy process, and I would suggest that any student unsure about scheduling and what classes to register for take advantage of this. The advisors were readily available, and were extremely helpful mapping out my first year. This assured that I was in all the appropriate classes for a major in public relations and minor in marketing.
Now that I was registered for classes, the next thing on my list was buying my books. My suggestion to all students coming in is to wait to buy your books. On the first day of classes, professors will let you know the required texts. The Mount Bookstore is located right on campus in the Rosaria Student Centre, and all your books will be available there. Text books can be an expense for students so you can also look for used or second-handbooks which are even available at a reduced rate at the Bookstore. You will also have the opportunity to sell your books back to the Bookstore at the end of each semester.
The Students' Union also holds a book exchange at the beginning of each term, this is also a great place for student s to purchase second-hand books. Finally, don't be nervous to ask current students about their books – most often they would like to sell their books just as much as you would like to buy them!
As a full-time Mount student, you will receive a Metro Transit bus pass with your tuition. The bus system is not something to be feared! During orientation week there will be opportunity to learn the ropes of the system. This gives you an opportunity to explore the city on the busses with your orientation leaders. Another great way to get familiar with the routes is to get a group of your friends together and hop on a bus (or even ferry!). This is a fun and cheap way to venture off into your new home in the beautiful city of Halifax!
The final piece of advice I would like to share here is that you are never limited at the Mount. The best way to enjoy your first year is to get involved in all aspects of Mount life. You can do this by attending athletic events and cheer on your fellow Mystics! Or join a society with your friends on campus, and volunteer at events. There are endless amounts of services on campus that allow all of these things to be possible!
I hope that these quick tips have been helpful to you, and have reduced some stress that you may be feeling about your first year. Be sure to visit the Go to the Mount 2012 Facebook page, and follow us @gotothemount on Twitter to check out my 20 Tips to see what other suggestions I have for incoming students! If you found these tips helpful, but have more questions and concerns about your first year please feel free to send in your own tips and questions to me at recruitment.assistant@msvu.ca!