The Mount gives back
In 1951, a devastating fire destroyed Mount Saint Vincent College, and the surrounding community responded with an outflow of support. Since then, each January, the Mount family participates in acts of kindness, big and small, to reciprocate the kindness we were shown. This is the story of Caritas Day.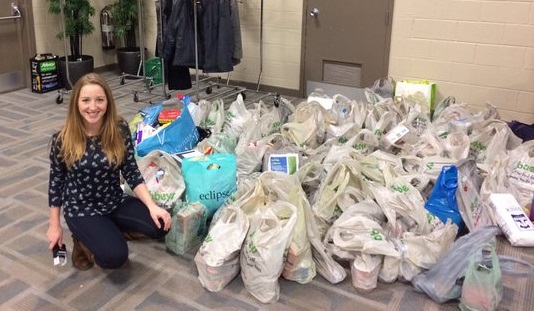 On January 27, Mount students, faculty, staff and alumnae went above and beyond to celebrate Caritas Day 2016. To start the day, members of the student Business and Tourism Society volunteered their time at Adsum House, a local women and children's shelter. Meanwhile, over one hundred other Mount students participated in a community food drive, returning with a generous collection of items for those in need.

In the library, a group of volunteers knitted toques for the #25000tuques campaign; items knitted through the campaign will be donated to Syrian refugees. Other Mount staff volunteered at Feed Nova Scotia. On campus throughout the day, free cookies, coffee and refreshments were offered by various departments to brighten spirits. The Mount's Advancement team even decided to spur a new Caritas Day tradition, starting a game of tag spreading acts of kindness among university departments. The public affairs office, for example, was the recipient of a new pot of flowers (and a cake!).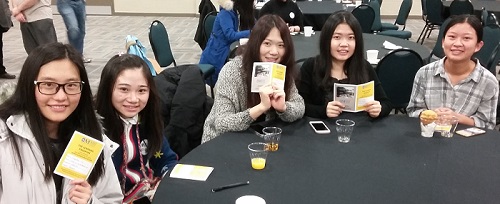 Mount Education professor Dr. Krista Ritchie went out of her way to spend some time with Shelter Nova Scotia, who commented online: "Today Dr. Krista Ritchie helped us pick up much needed donations of towels and bowls from Value Village. Being supported by two wonderful organizations helps us to know we are part of the community. Thank you."

Even Mount alumnae as far away as Calgary were active on Caritas Day. Sarah Wood, BPR '07, paid for some coffee for other regular customers at a coffee shop. "When [staff] asked why, I just said I wanted to spread some love… I believe there's a huge power in a smile and a whole lot of magic in simple acts of kindness."

All told, Caritas Day this year set a new precedent for years to come. Each year, the Mount family grows and spreads the spirit of Caritas day further. Students, friends, faculty and alum alike can take pride in knowing the difference that they make, together, each January.