Mount graduate student's research gets international recognition
Danielle Root comes from the small community of Listuguj First Nation in Quebec. When Danielle was young, her mother always encouraged Danielle to do something she herself never had the opportunity to do: pursue an education. Danielle's mother has since passed away, but she always wanted her daughter to avoid many of the struggles that she herself faced because of her own limited access to education.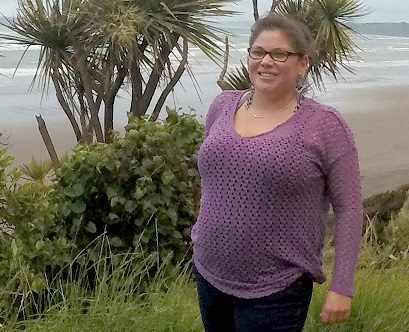 In 2000, Danielle left her community to pursue her education, earning her Bachelor of Arts in 2005. It wasn't until 2012, when she herself had a daughter, Gabrielle, that Danielle decided to leave a secure but uninspiring job to pursue her education again. She was accepted to the Master of Arts in Child and Youth Study program at Mount Saint Vincent University.

Thanks to that decision, in November 2015, Danielle found herself sharing her research in front of a crowd at the Healing Our Spirit Worldwide conference in Kirikiroa, New Zealand. When she first submitted her abstract to the international indigenous peoples' conference, Danielle never thought that she would be chosen to share her research, but in June, she received the exciting news that she was to be one of the speakers at this prestigious international conference!

Danielle's community of Listuguj First Nation showed their support for Danielle by offering her a paid sponsorship to attend the event, and suddenly, Danielle found herself on the opposite side of the world, sharing her work with indigenous researchers from all around the globe.


From student to colleague
Danielle is currently working on her Master of Arts thesis, titled "Aboriginal Motherhood: Fostering Attachment Our Way"; this is the topic that she presented at Healing Our Spirit Worldwide. At the conference, Danielle met several of the researchers who have influenced her work, including Cindy Blackstock and Linda Tuhiwai Smith. And it was this conference that helped Danielle to realize that her work in the field has made her a colleague to the researchers she admires so much.

"While having lunch after visiting a Maori marae with people from the conference, I realized that I was sitting among some pretty interesting people, including Marlene Brant-Castellano's nephew!" she says. "I told a Maori man sitting at our table how honoured I was to have met some of the scholars and their families and how someday I aspired to be like them. He looked at me and said, 'you're already there—you are sitting here aren't you?' Those powerful words helped me come to the realization that I'm well on my way to do what I was meant to do in this lifetime, and I am sure that what that man said that day will remain with me throughout my life journey".

The conference also helped Danielle to understand how much indigenous peoples across the world have in common. "We all face the same problems," she says, "no matter where we're from." But she says that life is very different for the Maori people in New Zealand. "They own their own land," she explains, "and everyone knows that it's Maori land. The Maori culture and language are so much more present throughout New Zealand. We don't have that."


Missing voices in research on aboriginal families
And this lack of understanding of Aboriginal culture here in Canada is part of what Danielle hopes to change—in part, through her Master of Arts research. She began her graduate program, and began looking at attachment and motherhood. And she noticed that while there was a lot of work being done about Aboriginal parents, very little is being done with them. This missing voice in the academic research spurred Danielle to look closely at what attachment means to Aboriginal families.

Throughout her educational journey, Danielle has remained connected to her community, and to other First Nations researchers and support networks. Before the community of Listuguj sponsored her trip to New Zealand, she received an Atlantic Aboriginal Health Research Program scholarship, as well as the Indspire award. In 2014, Danielle was one of four recipients of the first Loretta Saunders Scholarships—an award established in the memory of the late Innu student and who had been researching missing and murdered Aboriginal women at Saint Mary's University at the time of her death in 2014. This scholarship changed the way that Danielle saw herself, her studies, and the importance of her work. "I had always struggled with self-esteem issues, but seeing that the people involved on this scholarship panel believed in me became a turning point for me," she says. "I was beginning to feel more confidence in myself and the work I was doing." And so far, this newfound confidence has already taken Danielle and her research right across the globe.