10. "My own four undergraduate years were, without question, how things got started for me."
Dr. Ramona Lumpkin, CM the Mount's President and Vice Chancellor (and recipient of the Order of Canada), underlined the significance of her own undergraduate education and her introduction to literature in her journey. She said: "I believe passionately in the power of poetry [to change the world]."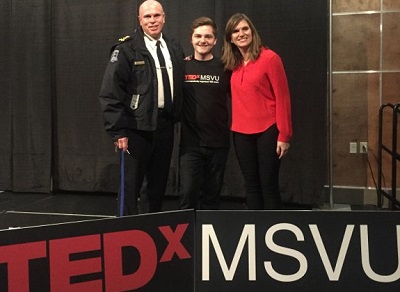 9. "Canadian charities need you now more than ever before."

As Anne Melanson put it: "If America runs on Dunkin, Canadian charities run on volunteers."

Anne, who runs Bloom Non-Profit, elaborated on the downward trend in Canadian volunteerism, and how easy it is to get involved.

8. "Every one of us leads something or somebody. Every one of us has the ability to change the lives of someone else."

Mark Smith of Sport Nova Scotia attributed every accomplishment, "up to this second", in his life to sport. He said: "The types of coaching skills I used in my work were the same types of coaching skills I used on the baseball field."

7. "Count pennies – not dollars."

Making small differences, one at a time, can amount to unbelievable impact. Mount Public Relations student Anastasia Smallwood proved just that in her talk about becoming a leader (one Shinerama penny at a time).

6. Be an effective citizen.

Graham Steele – author, educator, political analyst and self-declared ex-politician – filled us in on where he believes change comes from: ourselves. "Effective citizens are engaged, knowledgeable, persistent, and united in a common cause."

5. Channel your inner child.

Sara Napier (at right in photo above) said: "I believe that there is an innocence and beauty in the way that children think. There is such a wisdom in that innocence."

4. "Be deliberate, be committed, and measure your impact."

Further, "Find your passion, get involved in the community environments that drive your passion, then make a difference." Jim MacGowan spoke on his passionate involvement with the YMCA since he first started spending time there with his mom – and his advice for getting involved. "Give selflessly and you'll be surprised by what you get back."

3. To move forward, we must learn from the past.

Catherine Martin, the Mount's Nancy's Chair in Women Studies, and a member of Millbrook First Nation, shared what she's learned from her experiences and Mi'Kmaq elders, noting that we are all treaty people. "We must work together — not only as a people, but as a world. We must work to share."

2. "Take care of yourself. Take care of others. That's how you make things better."

Halifax's Chief of Police, Jean-Michel Blais (at left in photo above), silenced the crowd with his reflection on police work, crisis, and struggling with post-traumatic stress disorder (or PTSD). Making a difference, he said, is like putting on an oxygen mask: to take care of others, you must first take care of yourself.

1. Most of all: be the change.

If there's one thing every speaker at TEDxMSVU brought up, it was to try something. Everyone has the tools to make a difference: all we need to do is work together, get started, and start moving toward a better world.