During fall convocation ceremonies to be held on October 22, 2023, Mount Saint Vincent University will recognize the achievements of several hundred students and bestow an honorary degree on the Honorable Jane Cordy, Senator.
An alumna of MSVU, Senator Jane Cordy (BEd '89) taught elementary school in Nova Scotia for more than thirty years, teaching in Sydney, New Glasgow and the Halifax Regional Municipality until her appointment to the Senate of Canada by the Right Honourable Jean Chrétien on June 9, 2000. Senator Cordy was the third woman appointed to represent Nova Scotia in the Senate.
Prior to her appointment, Senator Cordy served as vice-chair of the Halifax-Dartmouth Port Development Commission, served on the Board of Phoenix House for Youth and was also the chair of the Board of Referees for employment insurance.
During her time in the Senate, Senator Cordy has been a member of numerous senate committees and parliamentary associations and has participated in several landmark studies and reports. She was part of Prime Minster Chretien's task force on seniors and was also a member of the Special Senate Committee on Aging, which studied the implications of an aging society in Canada.
As a member of the Standing Senate Committee on Social Affairs, Science and Technology, she participated in the study of issues relating to mental health, mental illness and addictions which culminated in the comprehensive report "Out of the Shadows at Last." The report directly led to the establishment of the Mental Health Commission of Canada.
Today, Senator Cordy is Leader of the Progressive Senate Group. She is Deputy Chair of the Standing Senate Committee on Social Affairs, Science and Technology and a member of the Standing Senate Committee on Fisheries and Oceans as well as the Standing Senate Committee on Rules, Procedures and the Rights of Parliament.
Senator Cordy lives in Dartmouth, Nova Scotia with her husband Bob. They have two adult children, Alison and Michelle, and four grandchildren.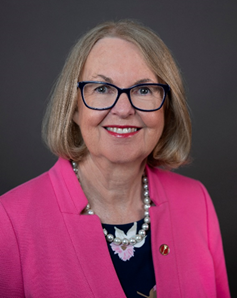 Convocation Ceremony Details
The Honourable Jane Cordy will be honoured during the convocation ceremony taking place at 2 p.m. on Sunday, October 22. Convocation ceremonies will be held in the Seton Academic Centre Auditorium and will be livestreamed on YouTube and Facebook.
About the degree of Doctor of Humane Letters, honoris causa
Mount Saint Vincent University recognizes distinguished individuals whose accomplishments are consistent with the mission of the university by granting the degree of Doctor of Humane Letters (honoris causa) – an honour which can only be bestowed by the University Chancellor at the request of Senate. The university honours worthy recipients who have contributed to the betterment of society and humanity in any field, but in particular, improvement of the status of women, contribution to higher education, humanitarian and social service, involvement with and fostering of culture and the arts, or leadership in a field of endeavour. The convocation at which the degree is awarded is greatly enriched by the presence of honorary graduands who share the joy of the occasion.