Mount Saint Vincent University is pleased to welcome Angela Barrett-Jewers as its new Director of Athletics and Recreation – a position left vacant with the retirement of long-time director June Lumsden. Angela began in the role on September 25, 2023.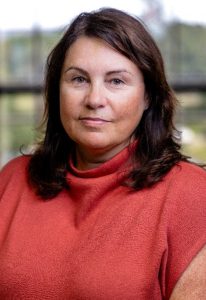 "I am very passionate about the academic and athletic success of student-athletes," said Angela. "I'm also deeply committed to ensuring that we provide exceptional experiences for all of our students. I'm really pleased to be joining the Mount family and contributing to the university's rich history of academic and athletic excellence."
Angela brings a breadth of experience to the Mount Mystics family, spanning marketing and communications, event management, game day operations and campus recreation.
Prior to joining MSVU, she worked for more than 18 years in Dalhousie University's department of athletics and recreation. Through a focus on strategic leadership, she increased the profile of Dalhousie's athletics and recreation programs; enhanced engagement among students, alumni and community members; and helped grow the membership of their athletic facilities and programs, including varsity athletics, club sports, intramurals, recreational programming, camps and events.
In addition to her professional experience, Angela has a deep-rooted personal connection to the worlds of athletics and recreation.
A Dalhousie women's volleyball alumna, she played four seasons with the Tigers, helping them to two AUAA (now AUS) conference championship titles between 1992 and 1997. She also represented Nova Scotia at the 1993 Canada Summer Games in Kamloops, British Columbia, and is well-versed in provincial and national level sport management through work with Sport Nova Scotia and CanoeKayak Canada, as well as coaching and competition in a number of different sports.
MSVU is excited to be building on its impressive sports legacy under Angela's leadership. Her wealth of knowledge and unwavering commitment to the success of all students make her a valuable addition to the Mystics team.
Welcome aboard, Angela!