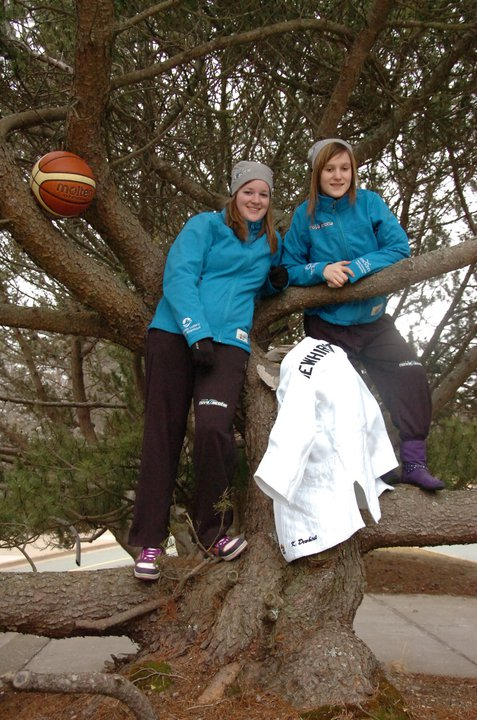 The Canada Games, hosted by Halifax in February may have come to an end, but the excitement for Mount students Joanna Swett and Kayla Dewhirst is still as fresh as it was the day they began.
Both students had the opportunity to compete in the Games in different sports, but both say it was a challenge to balance studies and sports.
"I trained for more than a year to prepare for the Games," says Joanna, who competed in wheelchair basketball. "I had to move midterms and assignments so I wouldn't fall behind in school, but it was all worth it."
Joanna came to Nova Scotia and the Mount from Calgary, specifically to study in the Child and Youth Study program, but she ended up being involved in so much more.
"I had never played wheelchair basketball before," she says. "But my sister, who has a kinesiology degree suggested I get involved, and a year and a half later, I'm on the Nova Scotia Team."
To prepare for the Games, Joanna put a lot of time into going to the gym. Not only did she train hard on her own, but she and her team trained together both on and off the court in order to get to know each other.
"It was a lot of fun, a great experience. I got to know my team mates better, but I also got to meet a lot of different people both inside and outside of my sport," she said.
Now that the Games are over, Joanna plans to continue her studies at the Mount and eventually enrol in the Bachelor of Education program. But competing is never far from her mind. She'll be going to Nationals with her team this May and will be participating in the 2015 Winter Games.
Kayla Dewhirst, a first year Arts student from East Ship Harbour, also started preparing a year in advance for the Games. Her sport is Judo and she's been involved since she was in high school.
"Ken Whitney, my first sensei, started a club in Sheet Harbour. My brother started, so I decided to try, and now it's four years later," she said.
She also says she had to  balance both her athletics and her school work. Though it was challenging, she managed to get there, even beating out Quebec – which was one of her goals.
"That was a huge milestone for me," she said with a smile.
As if she is not busy enough with school work and Judo, Kayla also wrestles and plays the piano. In fact, this multi-talented athlete has participated in past Summer Games in wrestling.
Kayla says she's been able to balance sports with school because of the supportive environment she's found at the Mount.
"What I enjoy most about the Mount are the professors," she says.  "I'm thankful for the one-on-one help I'm able to get from them."

Congratulations Joanna and Kayla! (pictured above: Joanna, left and Kayla, right)