Dr. Patricia Gouthro knows that research can evolve in surprising and exciting directions.
Dr. Gouthro has been a professor in Mount Saint Vincent University's Faculty of Education since 2000, and over the course of her academic career, her research has ranged from a theoretical examination of women's learning experiences to women's mystery writers.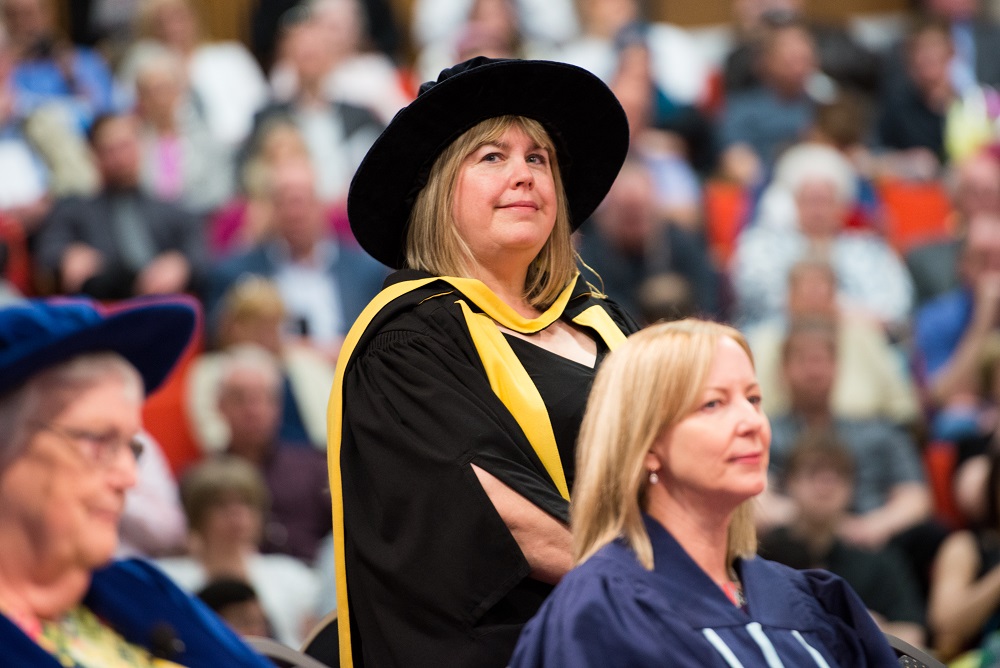 Since 2000, she has published 25 peer-reviewed journal articles and authored 10 book chapters. She has presented 28 conference papers around the world, and given nine keynote addresses at national and international university conferences. She has received several major research grants, and she currently serves as the editor of three academic journals.
But even as her own research has led her in new directions and to unexpected places, Dr. Gouthro knows that it's important to keep fostering new researchers in the Faculty's graduate programs. She works with graduate students in the Mount's
Master's programs in Lifelong Learning
, and in the
Inter-University PhD program
. She mentors many students in these programs, offering advice on the most effective ways to present at a conference, and how to write an academic journal article.
"We have a large graduate student presence on campus, so it's important to mentor them in research and academic writing," she explains. "That's the only way the field evolves."


This spring, the Mount is recognizing Dr. Gouthro's contributions to the university's research community by awarding her the 2016 Award for Research Excellence.


Fostering the evolution of a discipline
The Award for Research Excellence recognizes a Mount faculty member who has made an exemplary research and creative contribution both to their own academic field, and to the Mount's research climate and the intellectual life of the University. Each year, faculty members from across campus nominate a colleague for this award, and this year, Dr. Gouthro and her work are being honoured. And, as Dr. Gouthro admits, "It's nice to have your colleagues recognize all your work."


Dr. Gouthro began her research career as a doctoral student in Dalhousie University's Educational Foundations program. During her doctoral studies, she took a theoretical approach, developing a critical feminist analysis of women's learning experiences. Then, equipped with her PhD, Dr. Gouthro embarked on several research grant-funded studies. Her first study, funded by a national granting agency, involved using her theoretical background as a framework for understanding women's real-life learning trajectories.
---
"This experience made me realize how rich a resource listening to people's stories can be." — Dr. Patricia Gouthro, Faculty of Education
---
While she was teaching in Jamaica, Dr. Gouthro noticed that there weren't a lot of records of how the country's major political, cultural, and social figures in the field of adult education engaged in learning across their lifespans. The absence of a major archive of life stories intrigued Dr. Gouthro, but at the same time, she was aware of the challenges of recording and interpreting stories from people who came from very different cultural and social backgrounds. Cross-cultural study, she realized, represented a lot of advantages and disadvantages to her as a researcher, but ultimately this initial study sparked her interest in biographical research. She says, "This experience made me realize how rich a resource listening to people's stories can be."


And soon, Dr. Gouthro was applying for research grants to pursue more studies into grassroots and civil society organizations, citizenship, and to do biographical research about people's experiences in learning. When she was awarded research grants from the Canadian Council for Learning to expand her research in these areas, she made sure to involve graduate student researchers, launching her career in student mentorship that continues today.


Nurturing emerging researchers
Today, Dr. Gouthro's research interests continue to evolve.

After researching Sisters in Crime, a grassroots organization that supports women mystery writers, Dr. Gouthro received two more national research grants for studies in which she is the principal investigator, the first looking at lifelong learning, citizenship, and fiction writing, and her current grant, which looks at lifelong learning, fiction writing creative literacies, and fostering creativity across the lifespan. In both of these studies, she has conducted life history interviews with fiction authors, as well as interviews at creative learning sites such as book festivals, writing workshops, and arts councils.


Dr. Gouthro continues to work with graduate students, training them to work as research assistants and supervising their own research, while fostering emerging researchers' interest in expanding the kinds of research within the broad and evolving disciplines of Education and Lifelong Learning. And it's this commitment to her growing and developing field that is celebrated in the Mount's Award for Research Excellence.


Congratulations, Dr. Gouthro!