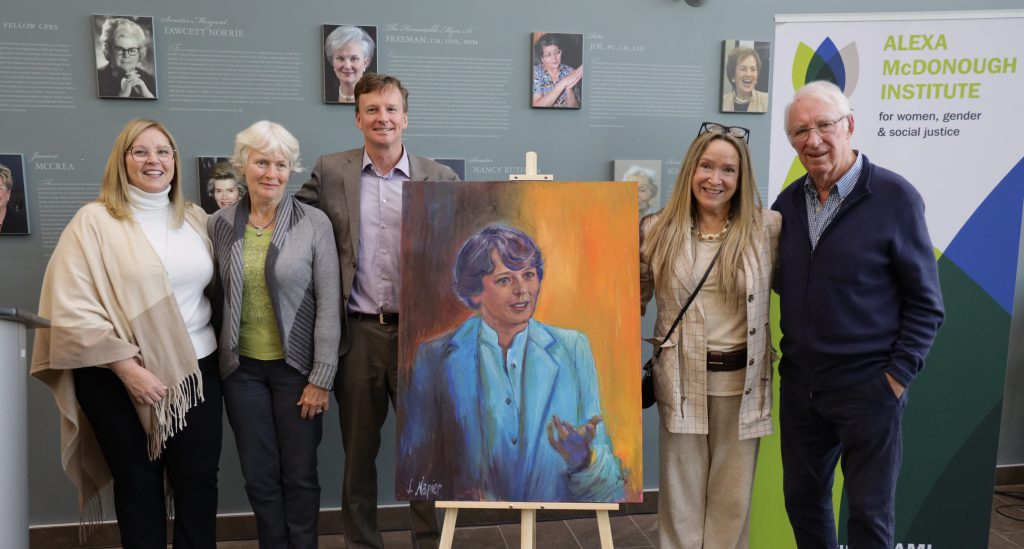 ---
On October 11, a portrait of Alexa McDonough, OC, ONS, was unveiled at an event in the McCain Centre Atrium at MSVU. Special guests included Alexa's son Justin McDonough, and brother and sister-in-law Robbie and Jean Shaw, as well as The Honourable Karla MacFarlane, MLA for Pictou West, minister of Community Services, L'nu Affairs and the Minister responsible for the Advisory Council on the Status of Women Act; Claudia Chender, leader of the Nova Scotia NDP; and Jo Napier, the artist who painted the portrait and founder of Great Women Productions.
Alexa McDonough, one of Canada's most inspirational women leaders, had a special relationship with MSVU and made a powerful impact on the University. She received an honorary degree from MSVU in 2009, and served as the university's interim president from 2009 to 2010. In 2013, MSVU's Institute for Women, Gender and Social Justice was re-named the Alexa McDonough Institute for Women, Gender and Social Justice. The institute's mission reflects what Alexa spent her career fighting for – equity and improved lives across communities through feminist initiatives, activism and a dedication to social justice.
"I want to thank the Mount for their commitment to the advancement of women. Seeing your institution's buildings named after such strong, historical women, with the pictures of women that line the hallways is really inspirational. We are very fortunate to have a university in our province whose mission is dedicated to creating a bright future for women and girls," said The Honourable Karla MacFarlane.
MSVU President and Vice-Chancellor Dr. Joël Dickinson spoke of Alexa's tremendous impact on MSVU and beyond.
"Alexa's legacy will live on at MSVU and she will be an inspiration for generations of women leaders to come. It's wonderful to have at MSVU this new beautiful visual reminder of the power of women leaders – and especially the impact of Alexa McDonough."
The portrait will be installed in the Alexa McDonough Institute at MSVU, located on the second floor of the McCain Centre.
View the photo gallery