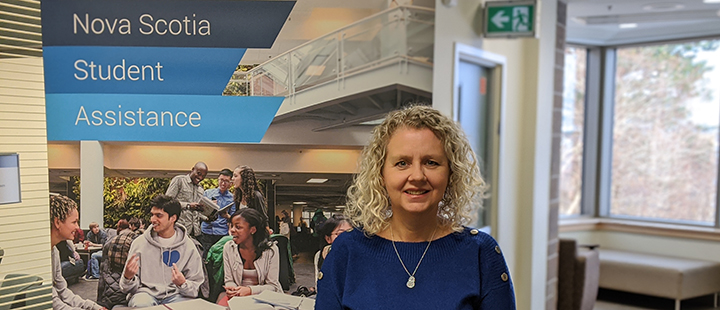 Making it easier for MSVU students to access support
Stacey MacKinnon is passionate about helping university students navigate their Nova Scotia student loans. As a Financial Aid Counsellor with Nova Scotia Student Assistance (NSSA), Stacey understands the complexities and challenges students face when funding their education.
"A student's circumstances could be a unique life or financial situation that cannot be captured on the loan application," said Stacey. "For example, a dependent student may not have a relationship with their parents, or a student may have exceptional expenses that prevent them from saving money for their education. Our goal is to provide an outreach service to assist students in a personal one-on-one meeting to discuss their loans and options."
NSSA first came to the MSVU campus last winter as part of a pilot project launched in collaboration with MSVU Financial Services. The intent was to make it easier for MSVU students to access NSSA representatives, given the distance between their office in downtown Halifax and the University.
"It's so much more convenient for students to be able to stop by to meet with a representative on their way to class than it would be to drive, catch the bus or take a taxi downtown," said Pam Reinders-Cooley, Manager of Student Accounts in Financial Services. "We know how busy our students' schedules are and we want to eliminate any barriers we can for them to access this important service."
NSSA originally had a table in the McCain Atrium once a week, where representatives answered questions about and assisted with individual loans and loan applications, appeals, special circumstances or situations, probations from student loan, applying for summer funding, and more. During the pilot, which was overwhelmingly successful, Stacey realized that a more private setting would be best given the sensitive information being discussed. For the 2020 winter term, Stacey will be set up in McCain 411E each Monday between 9 a.m. – 12 p.m.
Booking an appointment
Appointments can be made by emailing financial.aid@msvu.ca or by inquiring at the Financial Services counter or Financial Aid office (both located in Evaristus. 2nd floor). While appointments are preferred, walk-ins are available on a "first-come, first-served" basis. When booking, students will be asked to provide their name, NSSA file number, phone number, and a brief reason for the appointment.