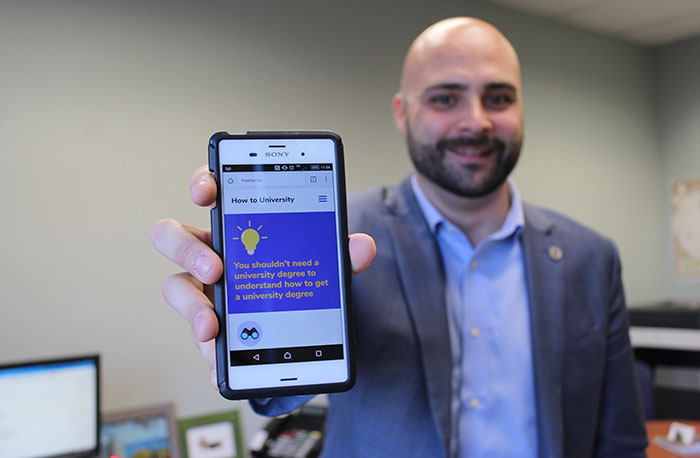 Pictured above: Kyle Steele, Manager of Student Recruitment at the Mount, shows off the new website.

Mount Saint Vincent University (the Mount) has created a website filled with practical advice and information for high school students starting to plan for university – HowToU.ca
"When we're out visiting high schools, we're hearing from young people who are overwhelmed by the process of deciding their educational future," said Kyle Steele, Manager of Student Recruitment at the Mount. "They realize this is one of the biggest decisions of their lives and they don't want to make a mistake."
Through research, focus groups and regular interactions with high school students, the Mount learned that, generally, universities assume high school students know more about the university planning process than they actually do. "We felt compelled to provide a tool that would help bridge that gap, and the idea of a website was born," said Steele.
The website is easy to navigate, written in plain language and gives high school students a solid understanding of the things they need to consider when making decisions about their educational future. Steele believes one tool that high school students may find particularly helpful is the robust glossary of terms.


"As a university, we use terms and references on our website and in our promotional materials that we understand because we're entrenched in this world. High school students, who for the most part have had limited exposure to universities, may not fully understand these various terms," said Steele.


When users visit the site, don't expect to be flooded with Mount-specific information.


"We intentionally created content that rings true for just about any university in Canada," Steele explained. He said this is because finding the right fit isn't only beneficial for the student – it's also best for the university. "We hope the site will provide a genuine resource that will become a go-to for high school students, guidance counsellors and parents when planning for university."


Those planning for university can dig in to some practical advice by visiting HowToU.ca