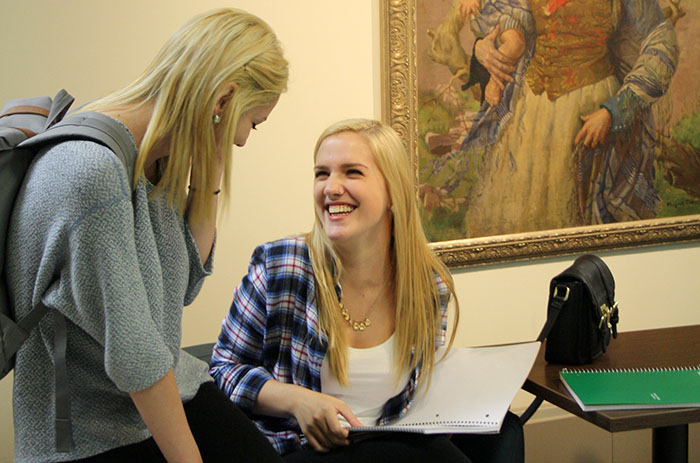 Imagine if from their first moment on campus, university students were immersed in an immediate support group of like-minded peers with whom they could go to class, study, and live.
That's exactly what two Living Learning Communities (LLCs) have set out to do at the Mount this fall.
"Basically, it's taking the academic experience and giving it a full 360 perspective," says Manager of
Residence Life
Lynn Cashen Basso.
How it works
An LLC is established within part of a residence and houses a group of students connected by their academic program or other similar interest. This fall, the Mount launched two LLCs: one for a group of Psychology students (located in Birch 3), and another for Science students (located in Assisi Hall). Each LLC includes between five and eight students.
Earlier this year, incoming first-year students were given the opportunity to apply for the LLCs as part of their residence arrangements. Students showed interest in the program right away, and by summer there was a wait list to get in.
The LLCs go beyond bringing like-minded students together in residence from the same programs. Members participate in activities that take their learning beyond the classroom – like monthly study sessions, collaboration with student societies, and meet-and-greets with faculty mentors like
Dr. Will Shead
(Psychology Department) and
Dr. Danielle Cox
(Math Department). "We've been very lucky to have these two faculty members participate in the program," says Lynn.
Helping Students Succeed
Living in an LLC can help students connect what they're learning in their program to other aspects of campus life. As first-year students adjust to life at university, LLCs set them up for success with a network of classmates and faculty who can relate to and support each other.
LLCs include senior students as well. Noted Lynn, "There is great value in living with other students in the same program, and even greater value to having senior students in that program live in the community as well."
First indications are that the program launch was successful. "So far, we've been very successful in that we have interest, students have shown commitment, and they're coming together – there's lots of positive traction," she said.
Juliana Ali
is a fourth-year Biology student and the Mount's Academic and Community Resident Assistant (ACRA). In that role, she supports the academic and community success of students in residence, helping them adjust to university life. She also organizes aspects of the LLCs including events and study sessions and has seen firsthand the positive impact the LLCs are having on students.
"One major benefit is having the support of their peers," says Juliana. "In addition, students get additional one-one-one support from me and faculty."
Juliana has enjoyed getting to know students in the program, and has ideas about adding mentoring or field trip even
ts to the LLC experience. "Students appreciate having people in their program close to them," she says. "It's important to make those connections early. I would have loved having this program in my first year."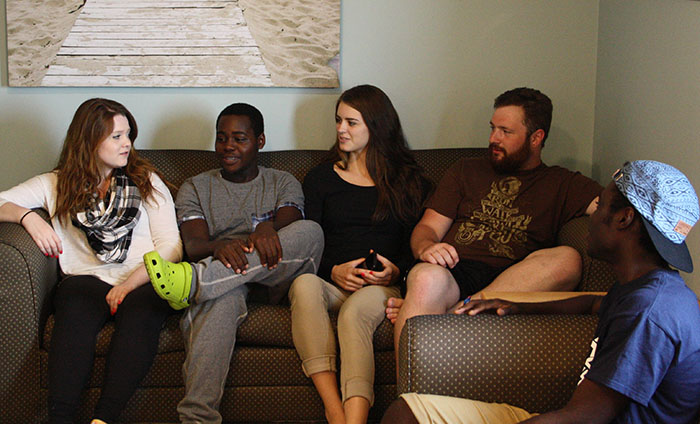 A community within a community
The LLCs enrich the experience of participating students, but the impacts are also felt across the wider Mount campus. "Research shows – and we are experiencing – lower dropout rates for first-year students in the LLCs. Plus, students feel more confident in their program of choice," Lynn says.
"It's all about making good connections with students, and helping them make connections as well," she adds.
The program is still in its early stages at the Mount, but Lynn is already looking forward to how it could expand based on its current success. "Other university campuses across North America have LLCs based on similar interests – such as for environmentally-minded students. I could definitely see communities like that flourishing on our campus as well," says Lynn. "I do see this growing. Stay tuned!"
——————————————————————————————————————————
Are you moving into Residence at the Mount next year? If so, stay tuned! An application for the Living Learning Communities will be made available to all newly accepted residence students prior to room assignments.