Lucy Pullen, Bubble, 2019

In celebration of the Nova Scotia Talent Trust's (NSTT) 75th anniversary, MSVU Art Gallery brings to life an exhibition featuring the recent work of NSTT scholarship recipients.
Titled First You Dream, the exhibition features works by a generational mix of artists who were recipients of NSTT scholarships between 1979 and 2016 – a span of 37 years. A variety of media are represented, including drawing, ceramics, fibre, jewelry, mixed-media, painting, printmaking, sculpture and video.
The exhibition launches at MSVU Art Gallery where it will run from May 18 to July 28, 2019, with an opening reception on Saturday, May 25 at 2 p.m. (all are welcome).
First You Dream was organized by MSVU Art Gallery in partnership with Cape Breton University Art Gallery and the Art Gallery of Nova Scotia. The exhibition will be on view at Cape Breton University Art Gallery in Sydney from August 16 to October 4, 2019 and the Art Gallery of Nova Scotia, Western Branch in Yarmouth from November 22, 2019 to May 17, 2020.
The 10 featured artists include (
bios available here
): Jordan Broadworth, Sandra Brownlee, Lux Habrich, Sara Hartland-Rowe, Dan O'Neill, Lucy Pullen, Pamela Ritchie, Despo Sophocleous, Emily Vey Duke, and Charley Young. Works by a number of these participating artists are included in the Mount Saint Vincent University permanent collection and/or have previously exhibited at MSVU Art Gallery.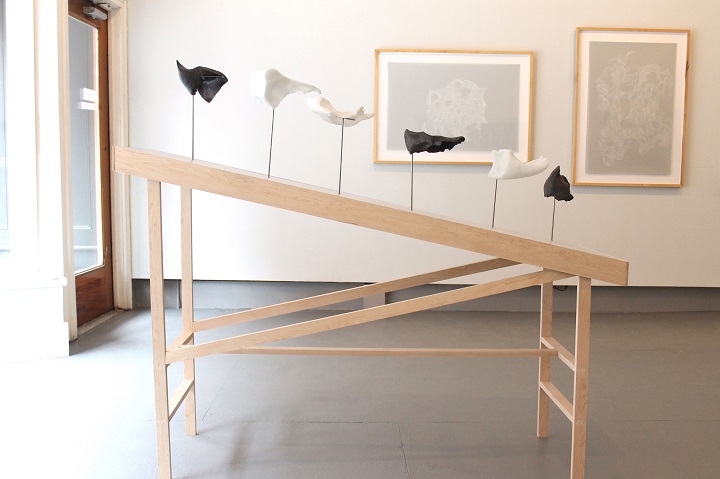 Charley Young, Trace Erase: Iceberg casts, 2017
"We are, and always will be, eager to showcase the work of Nova Scotia's best visual artists, but it is particularly exciting to see these works, of such caliber, brought together by a shared story – the story of NSTT's generosity and encouragement," said MSVU Art Gallery Director, Laura Ritchie "With so many of the included artists being from or having deep connections with Halifax, it's great that we can see the catalogue and exhibition tour launch here."
"Celebrating the talent of Nova Scotians is our passion and we believe in their creativity. It's fantastic to see this art show come together featuring ten of the many visual artists that we were able to support over the last 75 years. I thank our partner organizations MSVU Art Gallery, CBU Art Gallery, and the Art Gallery of Nova Scotia for their openness and dedication to bring First You Dream to all corners of the province," said Jacqueline Steudler, Executive Director, Nova Scotia Talent Trust.
Opening reception details
When: Saturday, May 25, 2 p.m. to 4 p.m., Brief remarks at 2:30 p.m.
Where:
MSVU Art Gallery, 1st floor, Seton Academic Centre (Gallery entrance is off main lobby), 166 Bedford Highway [
map
]
Who: Laura Ritchie, MSVU Art Gallery Director; Jacqueline Steudler, Nova Scotia Talent Trust Executive Director
About the Nova Scotia
Talent Trust
Since 1944, the Talent Trust has provided scholarships to over 1,000 Nova Scotians, primarily young people, who have demonstrated talent and potential to become professional artists in theatre, dance, fine craft and design, music, circus arts, media, film, literary, and visual arts. There is no other comparable organization in the country. In 2019, the Talent Trust is celebrating its 75th anniversary year featuring former scholarship recipients with a travelling art exhibition, pop-up events in theatre, music, and dance, film screenings and more.
More information:
nstalenttrust.ns.ca/
Jordan Broadworth, Meshed Redirect, 2016
About MSVU Art Gallery
Opened in 1971, MSVU Art Gallery is dedicated to contemporary art with an emphasis on women as cultural subjects and producers. Exhibitions explore various forms and highlight the achievements of artists in all career phases. MSVU Art Gallery promotes critical access to its exhibitions through publications, lectures, and educational programs, recognizing socially engaged practices as models of aesthetic distinction and political imagination. Admission is always free.
Gallery hours: Tuesday to Friday 10 a.m. – 4 p.m.; Saturday and Sunday 12 p.m. – 4 p.m.; Closed Monday.
The Nova Scotia Talent Trust and partner galleries gratefully acknowledge support from the Province of Nova Scotia through the Department of Communities, Culture and Heritage.
---
Claire Dykhuis
Education & Outreach Coordinator
MSVU Art Gallery
902-457-6291