Volunteering a way of life for Emily Albert
For Mount Science Communication student Emily Albert, wonderful surprises seem to be an annual occurrence.


Last June, the Mount surprised Emily – a Student Leadership Award winner – with a warm Mount congratulations at her high school graduation. Now this spring, she's won the Sovereign Medal for Volunteers, an official accolade of the Canadian Honours System.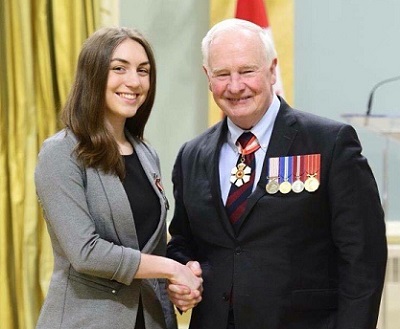 Formerly known as the Governor General's Caring Canadian Award, this honour thanks individuals who volunteer their time to help build a more caring nation. Recipients are recognized for their compassion and positive impact on the lives of others.
Without her knowledge, Emily's family, former teachers and mentors came together to nominate her in recognition of her extensive volunteer engagement. On Tuesday, April 12, she received her medal at a ceremony in Ottawa led by the Governor General, His Excellency the Right Honourable David Johnston.
"Emily is one of the kindest young adults to walk this planet," says Donna Griffin, Vice Principal, West Kings District High School. "She makes all in her presence feel so valued and her empathy towards others warms the heart."
Volunteer Experience
Growing up in Greenwood, Nova Scotia, Emily has always been involved in her community, but in the past five years her initiative has grown immensely.
Emily's long list of volunteer work is diverse and she has managed to become equally involved in her university life as in high school. Over the past few years, she volunteered with conservation researchers at Kejimkujik National Park, coordinated fundraising efforts for Me to We and joined the MSVU Free the Children Society to name a few.
"I have had a lot of people in my life, especially my parents, who have been really supportive of me and who have encouraged me to become involved in whatever I'm passionate about," Emily says.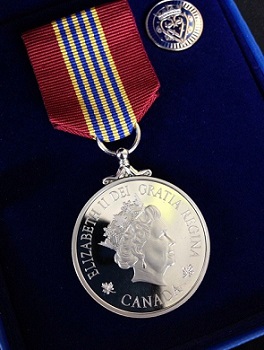 This year, she began her Science Communication degree at the Mount, a path she hopes will lead to a career in conservation and environmentalism. Her long-standing passion for the sciences was greatly influenced when she attended her first Girls Get Wise conference at the Mount in grade nine. Emily has attended the conference every subsequent year, and as a Mount student she continues to be involved by volunteering to help organize the event.
A commitment to caring
Her other volunteer activities include assisting the Greenwood Military Resource Centre and being a student ambassador at the Mount, two initiatives that give insight into what motivates Emily.

---
"One of the common things throughout all of my volunteering is that continuous passion for impacting people in the community, welcoming them and showing that someone cares about them," Emily says.
---
Working with the Military Resource Centre, Emily says her main goal was to help new military families, who often move every four years, feel at home in the community. Engaging newcomers and connecting them to a support network fueled her dedication to volunteering.
Now, as she explores the Mount community, Emily is connecting students. With the University's team of student ambassadors, she participates in events and programs that support inclusivity – her mission: welcoming new students and caring for others.
"Right from my first experience at the Mount in grade nine, I knew this is where I wanted to go," Emily says. "The people here are welcoming and caring and the community always struck me as being open-minded and inclusive. The Mount encompasses all the elements that are so important to me in volunteering."
Working alongside those who share a common goal is another reason Emily loves to volunteer. She believes it is important for people to know they can make a difference and that "being involved in your community is a really important aspect of being an engaged citizen."
As she settles into university life, Emily hopes to find more ways she can become involved in the community at large. With a few initiatives already in mind, it is likely this is not the last we have heard of Emily's great work – and that should come as no surprise.

Above photos © Sgt Ronald Duchesne, Rideau Hall