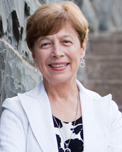 Message from Dr. Ramona Lumpkin, President & Vice-Chancellor
I'm delighted to join Mount Saint Vincent University as the Mount's 12th President and Vice-Chancellor. Over the years, I have followed the Mount and its achievements closely. The opportunity to lead this fine University and to help advance the vision, mission and values that distinguish its work was a compelling one.
As I considered accepting this new leadership role, I spoke to many people and carefully researched all aspects of the University. I was impressed with the Mount's solid record of fiscal responsibility, its disciplined approach to strategic planning, and its long tradition of commitment to students and to the broader community. The Mount has a rich history, built on the legacy first established by the Sisters of Charity, and we now attract and serve a diverse student population from our region and from around the world.
I'm confident that the Mount is positioned for continued success. I read with interest the O'Neill Report  and, with regard to the Report's recommendations that are directed at universities for consideration, I note that the Mount is already at the forefront in addressing a number of these recommendations. We are highly engaged, for example, in inter-institutional cooperation, integration of services where feasible, cost containment, and quality assessment and accountability.
Following the release of the O'Neill Report, all sectors of the Mount community responded quickly and with a unified voice. The Mount's Board, Alumnae Association, Faculty and Senate have adopted a resolution stating our willingness to consider the recommendations in the Report and take action where appropriate as our strategic plan continues to evolve. Equally importantly, the resolution reaffirms our status as a fully independent institution now and in the future.
The Mount's Faculty Association and their members have also reviewed the O'Neill Report in detail and together developed a response to its recommendations.
The Students' Union is currently engaged in discussions about the Report, in particular the recommendations to government regarding tuition and student financial assistance. They will hold a town hall meeting next week to seek additional insights from the student body.
Working together, all members of the Mount community will ensure that our University remains a vital contributor to higher education in Nova Scotia.