To the Mount community,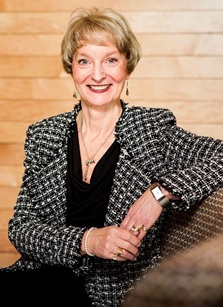 I am delighted to be connecting with you in my capacity as President and Vice-Chancellor of Mount Saint Vincent University.

This is my first official week on the job (though the transition started some time ago) and I have felt very welcomed to campus. In fact, what has struck me most so far is the warmth of the people at the Mount and the close-knit community here.
I am very grateful to have the opportunity to join the Mount community. So much about what the Mount is and what it stands for appeals to me. My own values and interests align well with the University's, in particular the Mount's commitment to the advancement of women and focus on accessibility of education. My academic and administrative careers (starting with my PhD research) have included a significant focus on ensuring accessibility and opportunity for those with disabilities (physical and intellectual), and I was struck by the Mount's commitment to ensuring access to education for marginalized populations or non-traditional students (for example, Aboriginal students, students of African descent and first-generation university students). The Mount's focus on experiential learning and internationalization are also of great interest to me.
In my new role with you, I have been given the opportunity to make a difference at a valuable institution. My priority at this point is to spend as much time as I can engaging with faculty, staff, students, alumnae and other friends of the University to hear about your triumphs, challenges, opportunities and aspirations. Our current strategic plan expires soon, so these conversations will help set the stage for a new strategic planning process.
In the meantime, what I know for sure is that I want to advance the great work already happening at the Mount. Supporting quality teaching and learning is a priority for the institution and my aim is to keep that front and centre. As well, advancing our research mandate will be a priority. And underpinning all of that, I am committed to continuing the great work being done to create opportunities for students and ensure a socially responsible approach.
Dr. Ramona Lumpkin did a phenomenal job as President and Vice-Chancellor of the Mount; she was an excellent leader for the University and has left a great legacy. I'm fortunate to be joining a wonderful organization at a great time. We're a strong, well-managed, fiscally responsible university with so much to offer our students, employees, the community and beyond.
Ramona and the Mount's Board of Directors have established solid transition plans to help me as I begin in my new role. In fact, I had several visits to campus before my official start date. There is definitely lots being done to support the leadership transition, and support me, and continue to advance the University.
In the years ahead, I will draw inspiration from the many incredible women Presidents of the Mount who have come before me. As well, I know I will draw inspiration from the incredible work underway across the Mount community, led by our many excellent faculty, staff and students.
If you ever have any questions for me (or if we haven't met yet), please don't hesitate to get in touch. I have an open door/open e-mail policy – in other words, I want to hear from you and at any time. If we're planning a meeting, I'd like to come to you. I want to explore every inch of this beautiful campus and getting out of my office and into your department is one of the best ways to do it.
I look forward to meeting you and serving as your President.
Mary
Dr. Mary Bluechardt
President and Vice-Chancellor
Mount Saint Vincent University
(If you'd like to know a bit more about me, you can read my bio here.)