Mount librarian nurtures critical thinking skills and confidence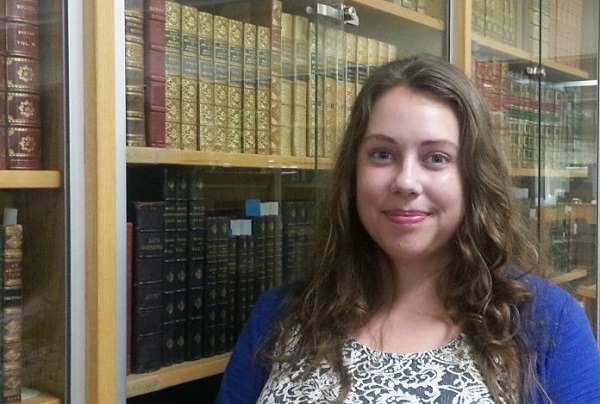 As cliché as it may sound, the Mount's new librarian Lindsey MacCallum has always had a love for books. At nine years old, she remembers reading Lucy Maud Montgomery's collection of Anne of Green Gables and completely immersing herself in the story of the girl with the red braids.

"My mom always said I was very intense about how books were cared for, making sure pages weren't creased and that the cover wasn't getting bent. Looking back now, I guess it only makes sense that I turned out to be a librarian."
Lindsey joined the Mount in July 2016, after working as a Librarian at the University of Prince Edward Island for two years. She has enjoyed exploring Halifax and loves the diversity in her role at the Mount. "Every day brings something new and different. Being able to engage in different activities from outreach to collection development to archiving to teaching keeps me on my toes. There is so much breadth in the work I do. I'm fortunate to be in a profession where I'm always learning something new."
---
"As a librarian, I can help to provide a cohesive understanding [of material for students]. It can be the simple things like helping with MLA citation or a bigger question about doing research. It's a privilege to be able to guide students through the process and help them feel calmer and more confident."
— Lindsey MacCallum, Librarian

---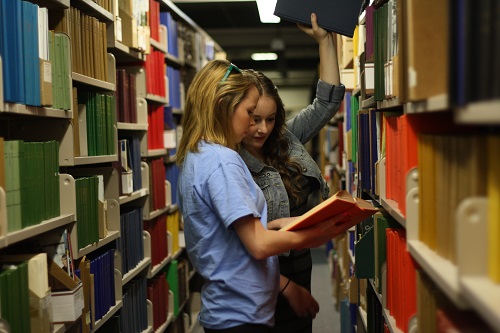 In a world where we are inundated with information, Lindsey feels she has a role to play in nurturing critical thinking skills, while also preserving institutional and cultural memories. "I think I have a unique role in being able to see a holistic view of how information is being shared. Being able to identify what the information needs are of students and helping them navigate this is rewarding. Knowledge and information are so powerful and being able to have a broad view of the world is so important, especially in this day and age."

This desire to foster critical thinking has been the driving force behind Lindsey's research. After noticing gaps in educational curriculum around teaching as a librarian, Lindsey felt strongly about examining how post-secondary institutions were preparing librarians to teach in accordance with best practices. Her research is the first of its kind in Canada to examine the link between the skills librarians are being trained on and how new professional instructional standards are being addressed in the classroom and on-the-job.

"I'm looking to know are we as good as we could be? What are we doing well and where are the gaps?
These are important questions to ask so we can tell the community what skills we have and areas for improvement." Lindsey's research findings will benefit the six major post-secondary institutions in Canada who offer a Master's Degree in Librarianship by identifying strengths and opportunities. Ultimately, Lindsey hopes her research will strengthen the library community here in Nova Scotia and across the country.
---
"Knowledge and information are so powerful and being able to have a broad view of the world is so important, especially in this day and age."
---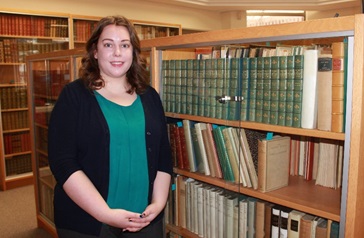 When asked what she likes most about her job, her answer is simple. "Helping students. Sometimes students come in with the theories from class but they are unsure of how it all fits together. As a librarian, I can help to provide a cohesive understanding. It can be the simple things like helping with MLA citation or a bigger question about doing research. It's a privilege to be able to guide students through the process and help them feel calmer and more confident."

The challenges that come with being a student are not so far from Lindsey's mind. Lindsey completed an undergraduate degree at the University of New Brunswick in 2011 as a History major. The Fredericton native was then granted a scholarship to the University of Sheffield in England where she completed her Masters of Librarianship in 2012. "I was there not so long ago as a student trying to navigate what I wanted to learn and what I wanted to eventually do for a career."

Coming to the Mount was a logical next step for Lindsey. "It has been a very easy transition coming from Prince Edward Island. There are a lot of good people at the Mount and it is a supportive environment. It feels like a community." The only downside of the move for Lindsey has been unpacking her 20 boxes of books. They travel with her wherever she goes.