Professors develop unique course: Art & Politics
Dr. Jeff MacLeod, Chair of the Mount's Department of Political Studies, and Dr. Nick Webb, NSCAD University professor of historical and critical studies, were recently recognized by the University Senate for their interdisciplinary, inter-university, co-taught course Art & Politics, thought to be the only venture of its kind in Canada.
Framing art in a new way
Think of what art means to you. Do you see breathtaking canvases hung meticulously, ready to inspire awestruck moments of silence? Do you think of installations with detail that speaks volumes of the artisanal talent? According to MacLeod and Webb, it's time to think outside the frame.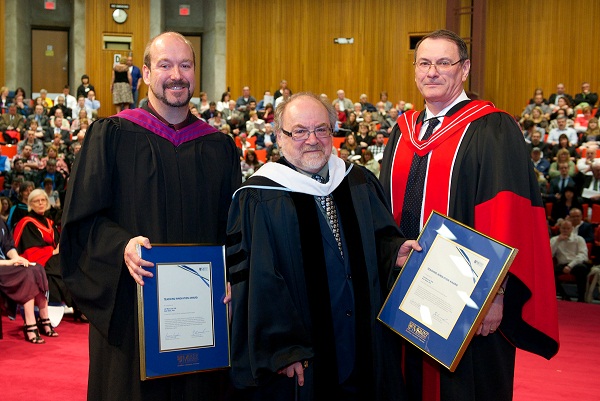 "We'd rather not talk about the pictures," says Webb. "Commenting on a beautifully-done piece is one thing, but considering the values, beliefs and underlying message is what we're talking about – the non-visual part of what you're seeing. That, at its core, is imagery."
(Photo L-R: Dr. Jeff MacLeod, Dr. Nick Webb, and Dr. Brook Taylor – Dean, Faculty of Arts & Science)
While MacLeod and Webb may appear to come from unconnected disciplines, they share a lens well outside their doctoral dissertations – they are both practicing artists. Amid the cobblestone region of NSCAD University in 2007, MacLeod and Webb met for the first time over coffee and built a foundation for scholarly research in unchartered territory.
"For two hours, we talked about our mutual interest in putting arts-based teaching and the social sciences and humanities together," says MacLeod. "We live in a visually saturated world. The ability to understand and modulate imagery is essential for survival in the current economic and political system. To separate art and politics, to leave the imagery neglected, would border on professional malpractice."
From research to the classroom
MacLeod and Webb journeyed to reinvigorate the arts into the academy, an effort they believe necessary to close the gap between the arts and social sciences. After presenting their peer-reviewed and published work at numerous conferences and workshops, MacLeod and Webb decided their interdisciplinary research was worth sharing in the classroom.
"Arts students have an incredible wealth of scholarly insight missing from the humanities," says McLeod. Webb adds, "But they also lack training in understanding how the political system works in relation to policy and advocacy."
While MacLeod and Webb had forged an effective research partnership, developing a teaching model that represented their research authentically proved challenging when it came to logistics. "The best model was to combine social science students from the Mount, and fine arts students from NSCAD University," says Webb. "Having 24 students split classroom time between both institutions worked better than we initially thought – they really dug in and forced one another outside of their comfort zones."
A classroom transformed
In the beginning, the stark difference between 'halves' was striking. But as noted by both professors, students began to see where each discipline in isolation fell short. "Imagery is felt, not cog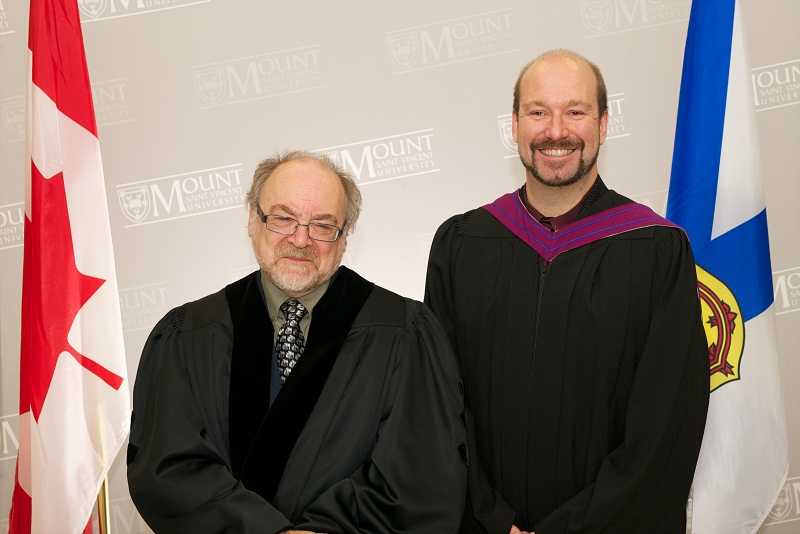 nized," says Webb. "In politics, feeling is discouraged in the development of a narrative." MacLeod agrees, noting, "Social sciences and politics are too often about constraint, which makes imagining a solution difficult when you can only see what's not possible. Discounting feeling as the means to engage imagery is absurd."
MacLeod and Webb facilitated discussions about imagery, leadership and policy making. Assignments dealt with the imagery of architecture and cityscapes including Halifax, political speeches, and the importance of defining a narrative while leaving enough ambiguity for interpretation by others. And by the end of the term, both describe a classroom of transformed, young scholars-in-training.
"Many of my students are activists, and they brought an enormous creativity to the classroom," says Webb. "Once they learned how policy is made in government, I saw them apply their interests with knowledge of the broader system, and that was extremely powerful."
For MacLeod, seeing his students 'let go' was the most rewarding. "Political polls and statistics mean nothing without understanding how imagery works," he says. "Visual artists have a potentially powerful voice, and so by demonstrating the reciprocity of the two fields, I believe our students have a powerful opportunity to harness their knowledge and affect change." While the five-year journey as described by both professors emits a distinct pride, their sense of humility sets a tone and expectation that much is yet to come, including a second journal article and book manuscript currently in the works.
Their demeanor speaks to an existence of mutual respect, perhaps the product of finding sameness across disciplines. Their collaboration and willingness to share unique research with students makes these two ambassadors of art as a way of thinking worthy candidates for the Senate Committee on Teaching and Learning award for Teaching Innovation.