More than 430 students from over a dozen countries graduated from Arts, Science, Education, and professional programs at Mount Saint Vincent University's Fall Convocation today.
Honorary degree recipients
Accomplished Nova Scotia playwright
Catherine A Banks
(
bio/photo
) and leading social activist and human rights advocate
Leilani Isabella Farha
(
bio/photo
) attended morning and afternoon ceremonies respectively to accept honorary degrees.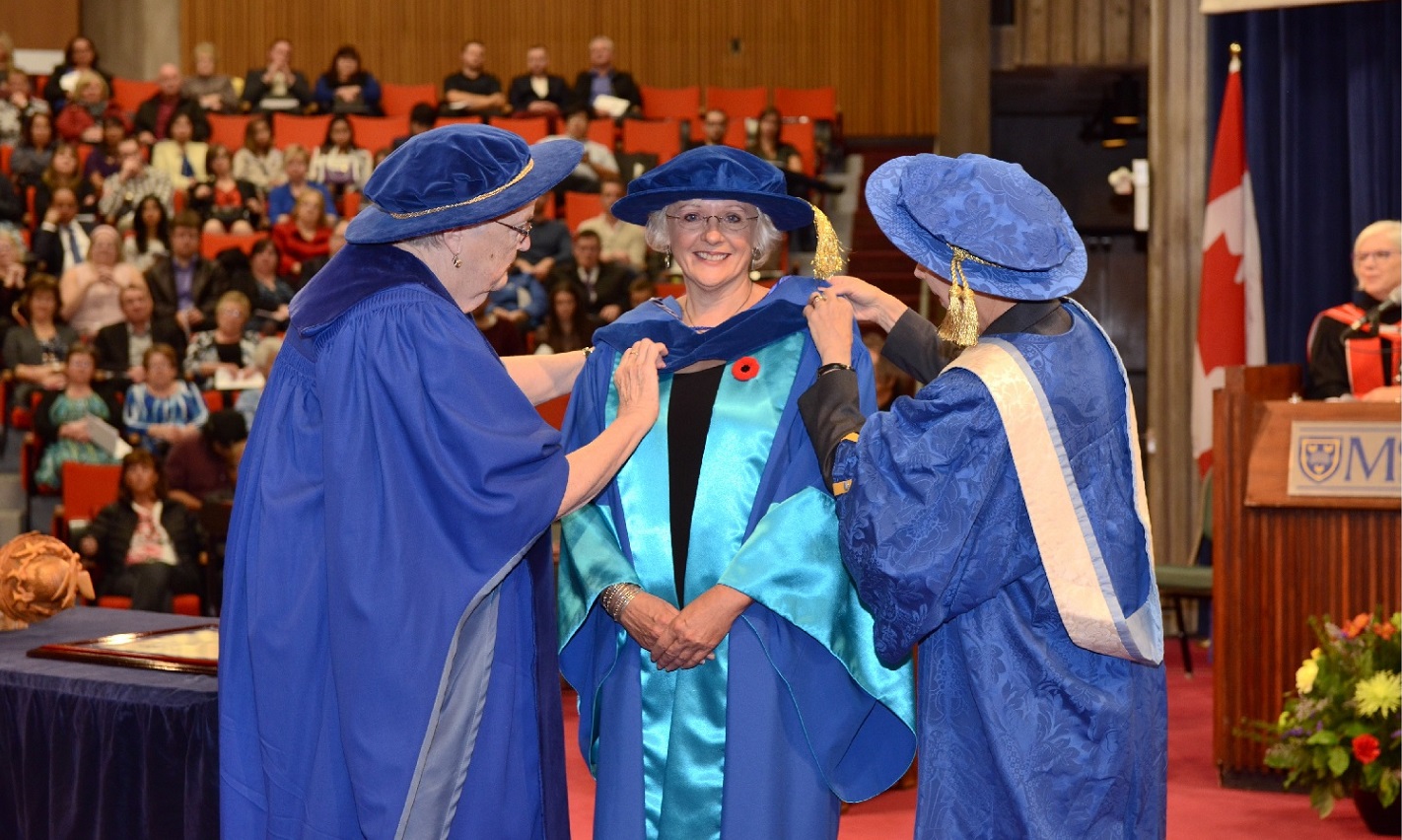 In her address, Catherine A. Banks celebrated the power of poetry to connect us to what is happening around us. "Read poetry," she urged graduates. "Share you passions with young people because it will have marvellous impact on their lives. Read poetry. Support others to take their dream to a new level even if the results may challenge your world. Read poetry. Once a year, once a month, once a day check your pulse for joy or what is most important to you. Hold in your mind what Mary Oliver asks in her poem The Summer Day: Tell me, what is it you plan to do with your one wild and precious life? Read Poetry."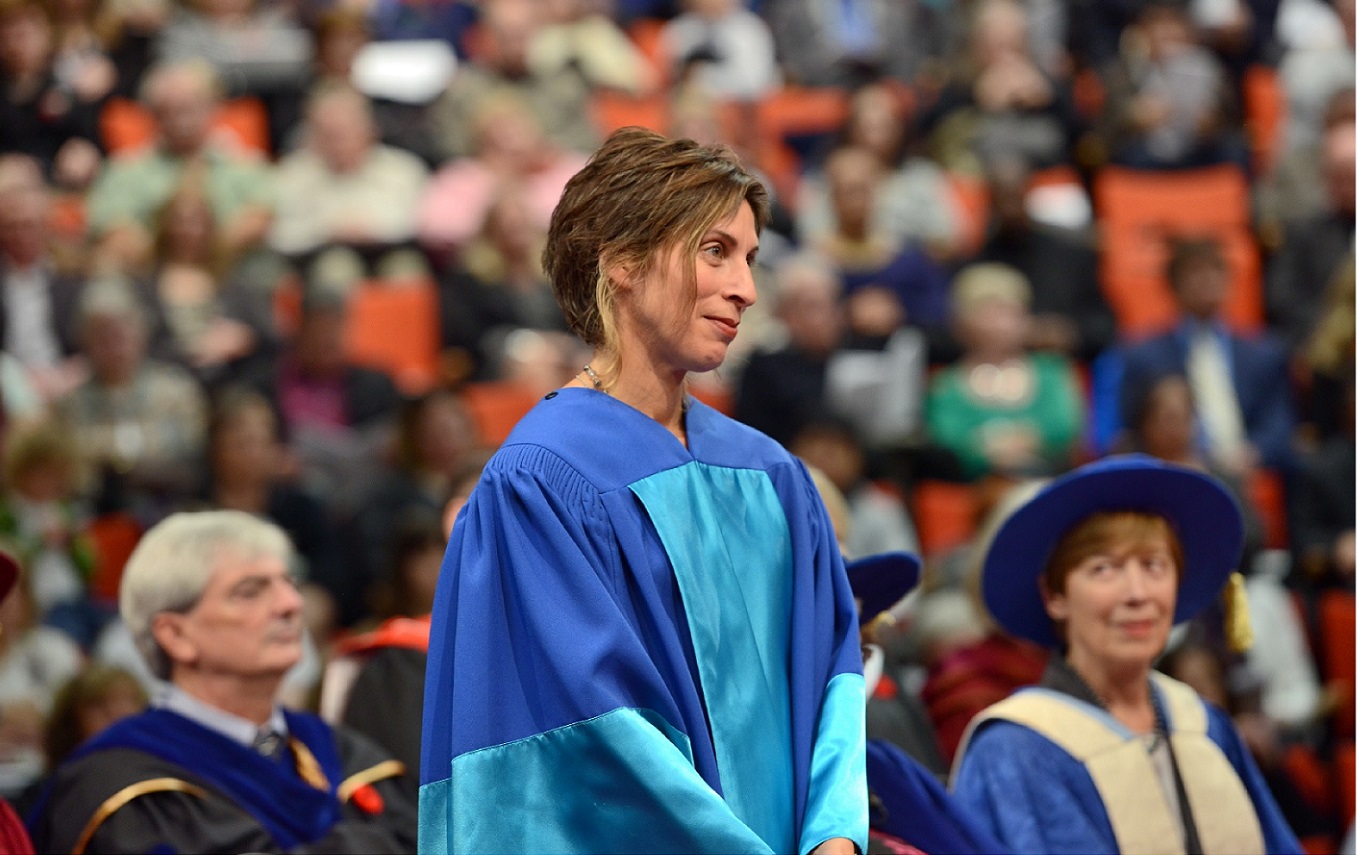 Leilani Farha offered a counterpoint to the frequent criticisms of the generation represented by many of today's graduates. "In my experience, you are risk takers," she said. "You think big and you believe you can make change. … You have ideas and you share them. … The ability to go out on a limb and express yourself is what gets the ball rolling. … You're resourceful – you do a lot with a little and capitalize on what's free. I admire these attributes that you may have and many more, but I admire them in particular when they are put towards changing the world, when they are harnessed in a community to address inequality and disadvantage. There is still so much to do."
Student prizes
Valedictorian Prizes for significant contributions to extracurricular activities at the Mount and in the community-at-large were awarded to:
The President's Prize, awarded to graduates whose generosity, energy and commitment enriches the university, was presented to:
Alysha L. Elliott, Bachelor of Public Relations (Co-operative Education), Fredericton, NB
Angelah Senkeyian Kusero, Master of Education (Educational Psychology), Halifax, NS
Membership to Kappa Gamma Pi, the National Catholic College Graduate Honor Society, is based on scholarship, leadership, and service, and was presented to:
Kayla R. McCarney, Bachelor of Arts (Sociology/Anthropology), Honours, Placentia, NL
Geneviève Maltais, Master of Education (Literacy Education), Halifax, NS
The Graduate Thesis Award went to Asna Adhami, Master of Arts in Education (Graduate Studies in Lifelong Learning), Halifax, NS (Spring 2015), in recognition of her thesis of exceptional quality titled In the Spirit of Inclusive Reflection: Reflections of a Cultural Expeditionist.
About Mount Saint Vincent University
Recognized as a leader in distance and experiential learning, and based on a strong tradition of social responsibility, Mount Saint Vincent University takes a personalized approach to education to nurture socially responsible global citizens. Founded in 1873, the Mount has been nationally recognized for having one of the lowest student-to-professor ratios, for providing students early access to valuable research opportunities, for its legacy in the advancement of women, and for facilitating critical advancements in food security, healthy aging, literacy, and childhood development.
For more information:
Gillian Batten
Manager, Communications
902-457-6439 / 902-441-0505
Gillian.Batten@msvu.ca