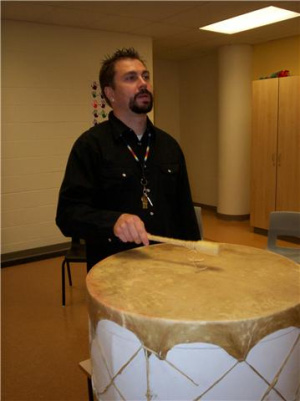 Every person has a unique motivation that informs their path in life. For some a teacher, friend or relative may be influential, for others, a part of their culture or heritage may be the driving force in their life.
For Marcus Gosse, a Fall 2010 Master of Education (M.Ed. Literacy Education) graduate, the latter is the case. Marcus is Mi'Kmaq, with his roots in the St. George's Native Band in Western Newfoundland; his heritage means everything to him.
"I absolutely love aboriginal, cultural and visual literacy," Marcus says. "It's my work, my pastime, and my passion. I don't know if I could devote myself any more to it."
Marcus has long been involved with Aboriginal literacy education. In addition to being a member of the International Visual Literacy Association (IVLA), he is also working with the Innu Education School Board in Happy Valley-Goose Bay, Labrador, as the Assistant Director of Education for the First Nations Student Success Program (FNSSP).
As part of this new role in FNSSP, Marcus is happy to be able to put his education into practice in a very tangible way.
"I used to teach in the classroom and I made a difference," Marcus says. "However, since I have become an administrator, I feel I am making more of a difference behind the educational scenes."
Making a difference for his fellow Mi'kmaq and Aboriginal Canadians is a big part of why Marcus chose to become an educator. His passion for literacy led him to the M.Ed. (Literacy Education), where he was exposed to a wide range of literacies.
My M.Ed. in Literacy Education has helped me realize all the different types of literacy: Aboriginal, Cultural, Emotional, Technological, Social, and my favourite, Visual," he says.
Marcus' passion for visual literacy is what led him to become an artist. He spent years studying traditional Mi'Kmaq art forms, including watercolour, acrylics and oil paints, and he now creates beautiful pieces, which help preserve this important part of his heritage. In efforts to pass along the craft, Marcus spent years teaching fine arts at the Indian Brook First Nations School, L'nu Sipuk Kina' Muokuom (L.S.K).
Despite Marcus' commitment to furthering the literacy of the Mi'Kmaq nation, continuing education is a huge undertaking.
"My father would say: Marcus, your Masters is short term pain for long term gain," he tells us. His decision to continue with his education in the M.Ed. (Literacy Education) came after a trip to Winnipeg, Manitoba where he attended an Aboriginal literacy workshop and fell in love with it. He had heard about the M.Ed. at the Mount, and in 2007 decided to join the program.
Now that Marcus has completed his M.Ed. (Literacy Education), he feels he is exactly where he wants to be: Involved with FNSSP, and working to improve the state of Literacy Education within the Mi'Kmaq nation.
"I am becoming more passionate every day with regards to helping the Native people of Atlantic Canada," says Marcus. With his Masters, his wealth of experiences and his complete dedication to the cause, Marcus will continue to do just that as he moves on from the Mount and uses his education to pass his passion along to the next generation of the Mi'kmaq'Ki (the Mi'Kmaq Territory).