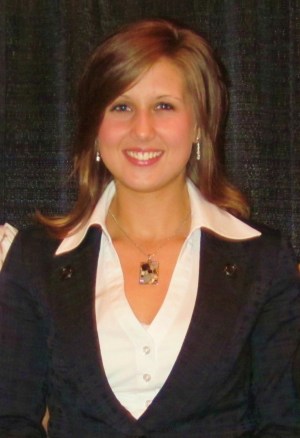 "To accomplish great things, we must not only act, but also dream; not only plan, but also believe." – Anatole France
This is Vanessa MacLellan's favourite quote, and the one that she chooses to live by. Originally from Sydney River, Cape Breton, Vanessa came to the Mount in 2007 to take the Applied Human Nutrition program, a decision that she is quite happy with.
"I love [the program]. Taking it was one of the best decisions of my life," says Vanessa. "The program is truly what you make of it-my involvement both inside and outside the classroom has made my overall learning experience very rewarding."
Involvement is something that Vanessa does not shy away from. She is currently serving her second year as president of the Mount Canadian Association of Foodservice Professionals student branch, and is the undergraduate student representative for the Department of Applied Human Nutrition. She is also the Student Network Leader for Dietitians of Canada, Co-chair of the Mount Canadian Obesity Network-Students and New Professionals and volunteers with Armstrong Foodservice and the Canadian Diabetes Association, to name just a few.
Due in large part to her dedication and involvement, Vanessa has received the Young Woman of Distinction Award from the Canadian Progress Club. The award will be presented to her at the 2010 Women of Excellence Awards on Nov. 18, with proceeds from the event going to support Phoenix Youth Programs, which helps at-risk and homeless youth in Canada.
The award comes as a great honour to Vanessa, who was nominated by Associate Professor Linda Mann, President of the Faculty Association.
"I'm ecstatic," Vanessa says. "I would like to sincerely acknowledge and express my appreciation to Linda Mann for being my nominator; along with Judy Fraser Arsenault and Patricia Myatt who were both references for my application."
The award is one of the many things that Vanessa has to be proud of as a result of her ongoing dedication. She was also the very first recipient of the CAFP Bob Taylor Memorial student bursary, and is a recipient of the ARAMARK Gold Plate award for the Mount.
But despite her many accolades, she still feels her greatest accomplishments are not individual achievements, but rather successes as a team leader.
Currently, Vanessa and her team at the Canadian Obesity Network are planning a panel discussion about obesity with local experts discussing the challenges associated with the battle to overcome this ailment, and what people can do to make a positive change in their lives.
"This will be the first event coordinated by our newly formed chapter. I am very fortunate to be working with such a talented and keen group of students," says Vanessa. "Our student chapter has exceptional faculty advisors, Dr. Nick Bellissimo and Dr. Melissa Rossiter, and their ongoing mentorship and wealth of knowledge is truly an asset to our team."
Ideally, Vanessa would like to use her degree to work with food companies in product promotions, sales, and marketing.  With two more internships planned for the next year and such an impressive resume already compiled, there is no doubt that she will be able to do whatever she sets her mind to.
For more information about the Canadian Obesity Network panel discussion, "Hungry for Motivation, Strength for Change," please visit this website. All are welcome to attend.
Hungry for Motivation, Strength for Change
Thursday, November 4
7 p.m. – 9 p.m.
Rosaria 401