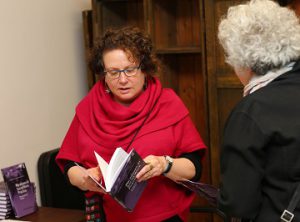 Dr. Marnina Gonick, Professor of Education and Women's Studies at Mount Saint Vincent University, has been awarded The Muriel Gold Visiting Professorship at the Institute for Gender, Sexuality, and Feminist Studies at McGill University for the Spring and Summer 2021 terms. The Muriel Gold Visiting Professorship supports visiting professors to spend up to two academic terms conducting research on gender, sexuality or feminist studies and connect with other professors within the McGill research community. The position is supplemented with $5,000 in research funding.
The position will also provide Dr. Gonick the opportunity to work closely with longtime collaborator Dr. Claudia Mitchell, Professor in the Faculty of Education at McGill University. "The position is about being part of a broader intellectual community" says Dr. Gonick. "These positions are important opportunities to meet future collaborators and learn about their work."
Through Muriel Gold Visiting Professorship, Dr. Gonick will continue her research with young Indigenous women. She is partnering with the Rankin Inlet Spousal Abuse Centre in working with young girls in the community. Dr. Gonick says the position will also allow for further dissemination of her research and learn about other research taking place across the country. Visiting professors have opportunities to attend seminars and present and discuss their own research. Dr. Gonick presented at a seminar series with her former student and MSVU alumnae Lyndsay Anderson. They have recently published a paper together in the journal Girlhood Studies.
Dr. Gonick joined MSVU in 2007 as Canada Research Chair in Gender, after teaching at Pennsylvania State University in the Faculty of Education and Department of Women Studies. Dr. Gonick's research in the areas of girlhood studies, gender and education and youth cultures is recognized nationally and internationally.
Prior to the Muriel Gold Visiting Professorship position, Dr. Gonick was a Fulbright Canada Research Chair at the Dartmouth College, New Hampshire, for the winter 2021 term. Fulbright Canada Research Chairs are held for exceptional scholars and/or experienced professionals who wish to conduct research or lecture in the United States.
---

We're advancing research, scholarly work and professional activity. Learn more about this MSVU Strategic Plan Theme »