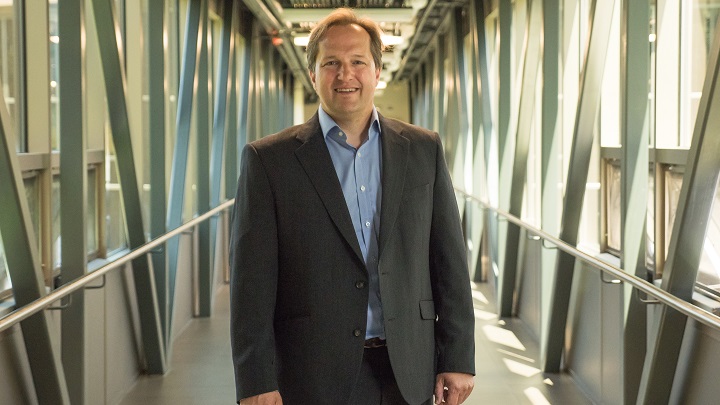 Dr. Antony Card joined the Mount Saint Vincent University community as the new Dean of
Education
in September 2018. Dr. Card came to the Mount from Memorial University of Newfoundland where he served as Associate Vice-President Research at the Grenfell campus, and Director and Dean of the School of Human Kinetics and Recreation at the St. John's campus. As well, Dr. Card has taught both Teacher Education students and graduate students at Memorial.
"Dr. Card has a strong history and commitment to working collaboratively with students, faculty, staff, and community and extensive experience and expertise working with Indigenous communities, and in partnership with provincial, regional, and national organizations and alliances in the area of School Health. We are delighted to have him as a member of the Mount community," said Dr. Elizabeth Church, Vice-President Academic and Provost.
What drew Dr. Card to the Mount was the University's "outstanding reputation for research and teaching excellence with pre-service and practicing teachers." As Dean, he says he will spend his first days and weeks getting to know the faculty, staff and students, and enhancing coordination of academic and research activities and communication. In the longer term, he says his aim is to ensure that the Mount continues to play a leading role in teacher education in a time of considerable change and opportunity in Nova Scotia, nationally and internationally.
Dr. Card's areas of teaching and research interests include pre-service and teacher education focused on health and physical education and health promoting schools. His research projects have focused on children and youth in Newfoundland and Labrador and engaging policy makers, practitioners and researchers in jointly setting priorities for youth health in schools across Canada, such as with the development of Core Indicators and Measures of Physical Activity. He is currently working on a project to enhance the social and emotional development of Qalipu First Nation youth in schools. The project (funded by the McConnell Foundation) includes understanding how teachers construct and use health messages. He is also the Managing Editor of Revue phénEPS / PHEnex Journal which features works on issues in physical education, health, dance, recreation, and leisure studies.
Dr. Card holds a Bachelor of Physical Education (Hons) from the University of Bedfordshire and Master and Doctoral degrees in Education from the University of Southampton in the UK. He serves on the Board of Directors for Physical and Health Education (PHE) Canada and played a lead role in its Healthy School Communities Initiatives. He has been active with the Council of University Researchers and Professors (CUPR) and the Canadian Council of University Physical Education and Kinesiology Administrators (CCUPEKA). In 2017, he was a visiting scholar at the University of Otago, New Zealand.
Dr. Card moved to Nova Scotia this past August together with his wife Michelle, an elementary French teacher, and twin sons Alexander and Benjamin – both avid basketball players and downhill ski racers who are starting grade eight this year.