Each year, the Centre for Women in Business at MSVU hosts a special celebration to mark International Women's Day (IWD) and celebrate their community of women entrepreneurs. Though virtual this year, the 2022 event was just as meaningful a celebration as in years past, kicking off with an original poem by Sue Goyette, Poet Laureate for HRM. Titled "The Unexpected Masterclass on How to Thrive When Feeling Undermined and Worn-Out", Sue's poem spoke beautifully to where so many of us currently find ourselves, offering how incredible it is that in spite of this, we continue.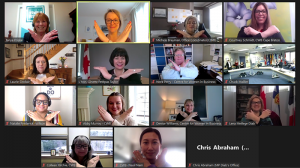 Also in attendance were the Honourable Ginette Petitpas Taylor, Minister responsible for the Atlantic Canada Opportunities Agency, and the Honourable Karla MacFarlane, Minister of Community Services, Minister of L'nu Affairs and Minister responsible for the Advisory Council on the Status of Women Act. Both shared their experiences working within the business and entrepreneurial sectors in Nova Scotia and what their hopes were for advancing Nova Scotian women business owners and entrepreneurs. The Centre was also pleased to welcome MP Lena Metlege Diab, Status of Women Executive Director Stephanie McInnes Langley, NSBI President and CEO Laurel Broten, and Trish Vardy, Regional Manager of Marketing and Communications for RBC.
Leading up to the virtual celebration, the Centre launched "Women to Watch – Entrepreneurs Building Our Communities," a video contest for Nova Scotian women business owners and entrepreneurs. After receiving 50 video submissions, a judging panel chose three grand prize winners in the categories of most creative, most passionate, and most community engaged.
Most creative: Bernice Williams, Intentional Connection 
Most Passionate: Funmilayo Odeniyi, MichNat Fashion 
Most Community Engaged: Bonnie Fraser, Surrey and Sydney 
For this year's IWD celebration especially, the Centre for Women in Business felt it was important to highlight the many incredible accomplishments of women business owners and entrepreneurs, asking what it meant to them be a woman in business in 2022. The three winners will be receiving a professional video shoot from RBC, the event's gold sponsor, and the first 30 people to submit a video will be receiving a 30-dollar gift card to acknowledge the Centre's 30th anniversary this year.
The CWB will be highlighting all 50 videos during the month of March and beyond to showcase a small yet mighty slice of the women business owners the Centre has had the pleasure of serving these past 30 years.