I am pleased to share the news that Dr. Adwoa Onuora has been appointed the next Nancy's Chair in Women's Studies at Mount Saint Vincent University. Recognized as a leading scholar-activist within the women's movement in Jamaica, Dr. Onuora will begin her two-year term at MSVU on July 1, 2022.
The Nancy's Chair was established in the mid-1980s by feminist and philanthropist Nancy Ruth to raise awareness of women's issues. The Chair enables MSVU to host distinguished scholars and activists who have contributed to the advancement of women through their work in women, gender, and sexualities studies.
About Dr. Onuora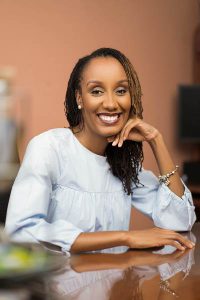 Dr. Onuora is currently a Senior Lecturer/Associate Professor in Women and Gender Studies at the University of the West Indies, Mona Campus, in Jamaica, where she teaches about equity, social and gender justice.
She has published on critical pedagogy and educational transformation, Indigenous epistemologies, as well as the intersection and impact of gender, sexuality/sexual orientation, race, ethnicity, class, abilities, and culture on women's lived experiences. Her areas of interest and specialization also include women, gender and transformative education; critical, feminist and maternal pedagogies; social reproduction and the care economy; and sexualities and gender-based violence. Dr. Onuora has employed feminist analyses to study the gendered dimensions of corruption in Jamaica. In 2017, she led the European Union-funded pilot time use survey on unpaid care work in Jamaica — the first of its kind in the English-speaking Caribbean.
Dr. Onuora has served on advisory groups such as the National Strategic Action Plan to end Gender-Based Violence Jamaica, the UN Women's Regional Advisory Group on the Measurement of Sustainable Development Goal 5.4.1 (Unpaid Care Work), and the Jamaica National Steering Committee for Skills to Access the Green Economy (SAGE) program. She has been heavily involved in community-based groups calling for the decriminalization of abortion in Jamaica, and has been active in social justice advocacy around legal reform to Jamaica's Sexual Offences Act, and related Acts that criminalize marginalized groups.
As Nancy's Chair, Dr. Onuora will undertake a community-based research project examining the challenges faced by queer Afro-Canadian/Caribbean youth and their parents, a subject she began exploring while completing her doctoral studies at the Ontario Institute for Studies in Education at the University of Toronto. Using the methodology of participatory comic, and through the creation of a social media knowledge hub for queer black youth and their parents, she hopes to promote queer positive parenting within Afro-Canadian/Caribbean communities. The project will aim to equip Afro-Caribbean parents with the tools to support queer Black youth who struggle with issues of belonging within their communities.
As part of her continued work to advance human rights in the area of sex and sexualities, Dr. Onuora is also interested in examining how government disaster risk management orders during the COVID-19 pandemic have deepened structural violence against sex workers. Some of her time will be devoted to documenting (by way of an oral history project) the pandemic experiences of sex workers in Halifax, Nova Scotia and Kingston, Jamaica.
We look forward to welcoming Dr. Onuora to campus this summer, and will hold an in-person reception to welcome her to her new role at MSVU once it is safe to do so. I hope you will be able to join us.
My sincere thanks to the members of the search committee and all those who attended candidate presentations.
Members of the search committee include Leanne Birmingham-Beddow, Dr. Mary Delaney, Dr. Meredith Ralston, and Dr. Susan Trenholm. I was honoured to serve with them.
Sincerely,
Carrie
Dr. Carrie Dawson
Dean of Arts and Science
Mount Saint Vincent University