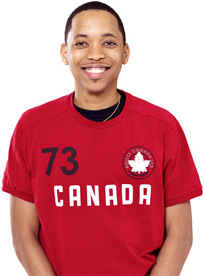 "When I was younger, I always remember my father telling me to think outside the box, so now I jump at any opportunity that comes my way."
Searching for Adventure
Kyle Stubbs, a recent graduate of the Tourism and Hospitality Management student from the Bahamas, admits that his original motive in coming to Nova Scotia was to make sure his little brother wasn't the first one to enjoy an overseas adventure.
"My younger brother was planning to come to Canada to study," notes Kyle. "I wasn't going to sit back and watch him go off and get an experience before I did."
Now working as a Relief Food and Beverage Supervisor at the Delta Halifax, Kyle is grateful for his brother's choice. Confident in his career path, Kyle credits the Mount for opening his eyes to the world of opportunities available to him.
These opportunities included a trip to Ollantaytambo, Peru in 2010 along with five other Mount students. In Peru, the students were tasked with evaluating the sustainability of tourism in the area. A primary focus for the excursion was to be one of the world's seven wonders, Machu Picchu, where there is a concern about overcrowding. Due to mudslides that occurred prior to the students' arrival, they were unable to visit the Machu Picchu site. This resulted in more time to better understand the tourism community's strong reliance on the textile industry. The students worked closely with Awamaki, a non-profit, non-governmental organization that works with women to improve the quality of their weavings and helping to revitalize the textile tradition while ensuring reliable income for the weavers.
Kyle also took advantage of another opportunity presented by the Mount's International Education Office in the spring of 2012, traveling throughout China to Shanghai, Nanjing and Beijing.
"The industry is so diverse and so complex"
In addition to the international travel facilitated by the Mount, Kyle enjoyed his co-op experiences during the program; particularly his time spent working at a hotel in Waterton, Alberta. "It was easily the best time of my life," says Kyle, who received the co-op student of the year award after completing his placement. "I got to work in the front office with six different nationalities. That was incredible."
His thirst for adventure continues in 2013, with three trips lined up: Vancouver and Whistler, Calgary for the Stampede, and a trip to Europe with his family. Kyle's experiences will serve him well in his quest to travel and work around the globe before returning home, where he hopes to own and manage his own hotel. "The tourism industry is full of vibrant people," says Kyle. "You get consumed by the energy. It's contagious. And once you're in it, you're in it to win it."