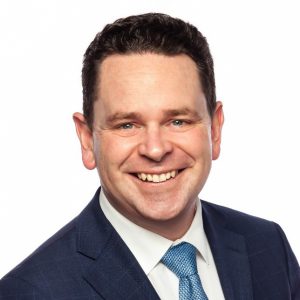 Well known as an engaged and energetic community supporter, Rob Batherson is an experienced communications strategist whose roots in the profession extend to MSVU's Bachelor of Public Relations program, from which he graduated in 1997.
After serving as managing partner and co-owner of a creative digital agency with offices in Atlantic Canada, Toronto and New York, Rob incorporated Harbourview Public Affairs in 2021. He brings to his firm more than 25 years of experience in the private, public, political and voluntary sectors. A three-term member of the Conservative Party of Canada's National Council and former Parliament Hill staffer and advisor to Premier John Hamm, Rob was elected president of the Conservative Party of Canada in March 2021, having previously served as President of Nova Scotia's Progressive Conservative Party from 2009 to 2012.
A champion and supporter of his alma mater, Rob was a member of the Board of Governors of Mount Saint Vincent University from 2007 to 2013. He has also served on the boards of the Halifax International Airport Authority, the Halifax Chamber of Commerce, Sacred Heart School of Halifax, and EduNova, and as Honorary Director of the Neptune Theatre Foundation following his service as a member of the theatre's Board of Directors.
Rob is also a super proud dad and husband, eager to cheer on his favourite young soccer player at every chance he gets.
---
MSVU's history is rich with the stories of countless people who've had an impact on the university and in the broader community. Over the course of 2023, we'll feature stories about 150 MSVU students, faculty, staff and alum. Check back often to meet more amazing MSVU people!