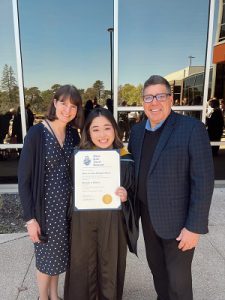 Molly Murray's connections to Mount Saint Vincent University are lifelong and woven throughout her family.
It all started when Molly's parents, Patricia Monaghan and Brian Murray, met as undergraduates at the university, marrying after graduating from MSVU. In addition to her parents, Molly's grandmother Janet Murray, her paternal aunt Suellen Murray, her paternal great-great aunt and paternal great grandmother are all alumni of the university.
Molly began building her own connections with MSVU early on, attending and graduating from preschool at the MSVU's Child Study Centre on campus before beginning elementary school. Molly also spent time on campus as a child while attending WISE (Women in Science and Engineering) programming offered by WISEatlantic beginning in 2012 and continuing for all the years she was in the eligible age range. In 2019, she began working as a communications assistant with the initiative, led by MSVU's Dr. Tamara Franz-Odendaal. In 2022, Molly joined the long line of MSVU alumni in her family by completing a Bachelor of Science with a Major in Biology and a Minor in Science Communication at MSVU.
Today, Molly is continuing to pursue her passion for science communications as a Data Management Specialist with Nova Scotia Early Childhood Development Intervention Services.
---
MSVU's history is rich with the stories of countless people who've had an impact on the university and in the broader community. Over the course of 2023, we'll feature stories about 150 MSVU students, faculty, staff and alum. Check back often to meet more amazing MSVU people!