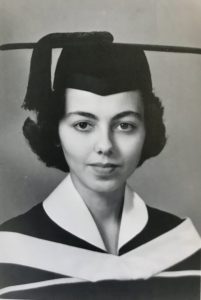 It's been more than six and a half decades since Janet (Pottie) Murray realized her childhood dream of following in the footsteps of her beloved aunt Isabel Jean Hyland and attending Mount Saint Vincent, but the university remains just as special to her now as it was then.
Janet graduated from the institution in 1956 with a BA (Honors) in Philosophy and a Diploma in Journalism (Highest Honors) from the Halifax School of Journalism, also earning the honour of serving as Class Valedictorian.
A loyal alumna of MSVU, Janet's involvement with the university didn't end when she completed her studies. She supported alumni initiatives and was a member of Mount Saint Vincent's Board of Governors for seven years, serving as Chair from 1980 to 1983.
Married to internationally renowned physician and Multiple Sclerosis expert Dr. Jock Murray for more than 60 years, Janet is the mother of four children, two of whom – Suellen and Brian Murray – also graduated from MSVU. Sadly, Suellen died from glioblastoma in 2014. Her memory lives on at MSVU through the Suellen Murray Bursary in Science Communication established by her family.
---
MSVU's history is rich with the stories of countless people who've had an impact on the university and in the broader community. Over the course of 2023, we'll feature stories about 150 MSVU students, faculty, staff and alum. Check back often to meet more amazing MSVU people!