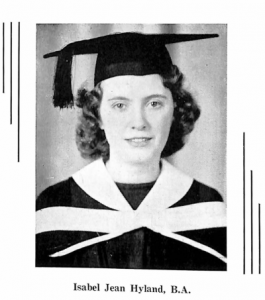 A devoted teacher for 34 years, Isabel Jean Hyland is remembered by her students for her compassion and devotion.
Isabel graduated from Mount Saint Vincent College in 1944, serving as Class Valedictorian and going on to study Education at Dalhousie University. She taught for many years at Oxford Junior High in Halifax, residing in the city's Hydrostone neighbourhood.
A bursary in her honour was established by her niece, Janet (Pottie) Murray (BA (Honors) '56), who was inspired to attend Mount Saint Vincent by her maternal aunt, Isabel. The Isabel Hyland Memorial Endowed Bursary serves as a lasting tribute to Isabel's educational dedication.
---
MSVU's history is rich with the stories of countless people who've had an impact on the university and in the broader community. Over the course of 2023, we'll feature stories about 150 MSVU students, faculty, staff and alum. Check back often to meet more amazing MSVU people!