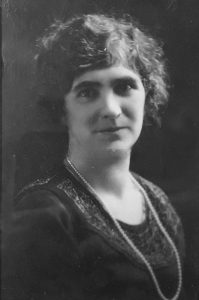 Born in Port Hood, Cape Breton, in 1883, Ada McNeill Wallace would later move to Halifax with her family, where she attended Mount Saint Vincent Academy and became the first President of the Mount Saint Vincent Alumnae Association.
After completing her education, Ada became Nova Scotia's first legal secretary. She worked in her father's legal practice and then served as secretary to the president of the Mabou Coal Company. In 1906, Ada married optometrist Thomas Wallace. The couple had 15 children, including two who followed their mother's example by choosing to attend Mount Saint Vincent – daughter Joan Wallace received the first alumnae scholarship from MSVU, and daughter Elizabeth Wallace Lee, a professional skater, also attended the university. Granddaughter, Wendy Murray, is a graduate of MSVU's gerontology program.
The couple's children also included Ron, who became Halifax's longest serving mayor, and Dan, a Rhodes Scholar and champion boxer and rower who served as executive secretary to Hon. Paul Martin and then director of the federal department of travel and tourism. Grandson Dr. Jock Murray is an internationally renowned physician and Multiple Sclerosis expert and his wife, Janet (Pottie) Murray is an MSVU alumna (BA Honors '56).
Note that a photo of Ada is available in this Facebook post.
---
MSVU's history is rich with the stories of countless people who've had an impact on the university and in the broader community. Over the course of 2023, we'll feature stories about 150 MSVU students, faculty, staff and alum. Check back often to meet more amazing MSVU people!