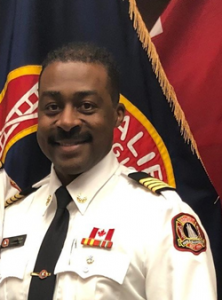 Inspired by watching members of the local volunteer fire service training near his family home in North Preston, Corey Beals knew from the time he was a boy that he wanted to grow up to be a firefighter.
Today, with more than 25 years of service with Halifax Regional Fire and Emergency (HRFE), he is a Deputy Fire Chief – making him both the highest-ranking Black chief officer in the Halifax fire department's nearly 270-year history and the first African Nova Scotian to be promoted to the senior leadership team.
But that's not the first time he made history with HRFE. In 2013, Corey was named District Chief/Division Commander, becoming the first African Nova Scotian to be promoted to a management position.
With a clear passion for learning, Corey brings significant training and education to his role. He is a member of Mount Saint Vincent University's alumni, having earned a Bachelor of Arts degree with a major in Sociology/Anthropology in 2007. He also studied Public Relations for three years at MSVU and has a Master's of Public Administration (Management) from Dalhousie University, a certificate in Fire Service Leadership from Henson College, and is a certified NFPA 1021 Fire Officer Professional Qualification Level II.
Active in his community, Corey served as Chair of the Halifax Regional Fire & Emergency Outreach Committee for several years and, in 2017, received the CAO's Award of Excellence for his work in promoting diversity and inclusion in the fire service. He received the award again in 2022 in recognition of his outstanding work on the COVID-19 Task Force Team.
He is currently a member of the Canadian Association of Fire Chiefs' Diversity and Inclusion and Leadership Development Committee, and the International Association of Fire Chiefs' (IAFC) Policy Review Committee. He was one of only three Canadian Chiefs selected to participate in the IAFC's Diversity Executive Leadership Program.
His long list of community commitments also includes serving as a member of the MacEachern Institute for Public Policy and Governance, the Nova Scotia Human Rights Commission Partners for Human Rights, and the Saint Thomas Baptist Church Men's Brotherhood, to name a few.
---
MSVU's history is rich with the stories of countless people who've had an impact on the university and in the broader community. Over the course of 2023, we'll feature stories about 150 MSVU students, faculty, staff and alum. Check back often to meet more amazing MSVU people!