Tara-Lynn Hughes (BPR '95) doesn't wait for opportunity to knock.
When she sees a door, she walks right on through. That tenacity has transformed itself into a 20-year career with TD Canada Trust.

After graduating from the Mount's Public Relations program, Hughes found herself in a new city, Toronto, in search of work. Canada Trust, a long-time supporter of the PR co-op program, had unexpectedly found itself without a co-op student. Hughes jumped at the opportunity. "I knocked on Canada Trust's door and offered to provide my services free for a trial period," she says.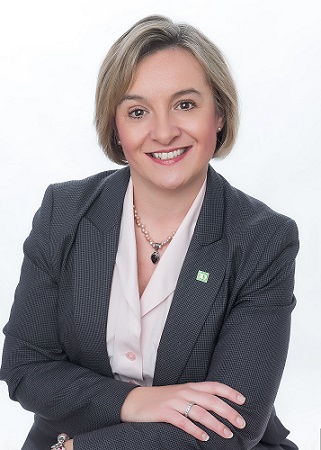 That was two decades ago. Today, Hughes is senior vice president with TD Canada Trust, which offers personal and business banking to more than 11.5 million customers. Her career started in the communications department doing internal communications.

Hughes was part of the merger that brought the two leading financial firms together, at the time the largest merger of its kind in Canadian history. "It remains one of the most interesting projects I have ever worked on," says Hughes.


"Communications was at the forefront of the merger," Tara-Lynn says. "I got to live what I had learned in my studies at the Mount."

"TD was looking to the customer service model that defined Canada Trust," she notes. "We built the merger strategy around winning the hearts and minds of people."

Post-merger Hughes continued to take on progressively more challenging and senior roles within the financial company including serving as vice president of corporate communications for the TD Bank Group, which made the Halifax native responsible for all communications efforts throughout North America. Then Hughes reached a crossroads.

"I loved this role and focusing on communications exclusively, but I asked myself if I wanted to do it for another 30 years," says Tara-Lynn.

Her former boss and mentor suggested she try a position in retail banking, so Hughes moved with her family to British Columbia as district vice president for south Vancouver Island.


Hughes thrived – and so did business. When the BPR grad arrived in B.C., her district had one of the lowest performance records in the country. When she left, it had one of the best.


Hughes credits her success in large part to her mentors who gave her opportunities to see the inner workings of an international company and the confidence to take risks. Much of her success can also be attributed to the skills she first honed as a public relations student at Mount Saint Vincent. "Those are transferable skills," says Tara-Lynn. "In retail, at the end of the day, it's about talking with customers and staff and identifying solutions to problems.

"It's a massive people leadership job," she adds. "My time at the Mount gave me these fundamentally important skills – how to be calm under pressure, how to think creatively, and how to weave words in a way that inspires people."

Now as the leader for TD in Atlantic Canada, Hughes looks back on a career that is as diverse as it is remarkable. "The thought that there was a glass ceiling never crossed my mind," she says. "It was about loving what you do and working hard."

For PR students now getting their degree, Hughes offers this advice: Think bigger, be bold. "Your future may be exclusively – and wonderfully – contained with the communications sector," she notes. "But the skills you are learning today are transferable. The world awaits."
---

This article originally appeared in the fall 2015 edition of the Mount's alumnae magazine, Folia Montana. We love to hear from our alumnae and share their stories with the Mount community. Please keep in touch — visit our website home for Alumnae & Friends here.